How to Make A Flappy Game in 23 Minutes + Source Code
Hi guys,
Hope you're doing well!
Today I'm here with another popular game. A game that many of us have memories from this genre and we may have started our first game-playing on smartphones with these games. This game is inspired by the "Flappy Bird" game. After its popularity fell down, the game could attract users again to the Flappy category games. This game has kept the mechanics of the mother game that the player should keep the object in the air and has added attractive changes too. The first change that users notice after entering the game is that this game is a shooter game too. Because that cute bird now has become a fighter that should remove the obstacles from its way. And the second change is that there isn't a specific path for the character to pass anymore and it should shoot to the obstacles to pass. Also, there are a lot of options and power-ups in this game that make it more interesting than Flappy Bird.
Making this game, even though its various items attract users, at first sight, is so simple. So we are going to instruct you on how to make this game in only 23 minutes. But don't be so emotional! Because this is the initial mechanics of the game and you should spend a lot of time on making the game with all features available on our website. But it's worth it because a lot of publishers look for the games in this genre and you can sell this game's license to them by learning how to make it. If you're a publisher and you'd like to have this game with high engagement on your website, just visit our website to get more information about buying this game's different licenses and more games: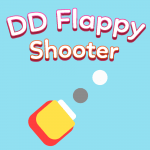 DD Flappy Shooter – HTML5 Arcade Game
Moving back to the tutorial, like all other videos on this channel, I teach you many things besides the initial instruction. In fact, the issues that you may have spent so much time on. But now by watching our videos you can learn them better because you are understanding their usage in a practical project. If I want to talk about other things that you learn in this video, I should mention:
– Using For Loops
– Using "Platform"  behavior
– Using "Timer" behavior
– Using "8Direction" behavior
– Using random expression
– Setting random color to Sprite
Send Your Email, Get Source Code
For downloading the Source Code of this tutorial, just type your email and send that to get an email from us…

Be the first one who gets the information about our New Products and Best Offers: