HTML5 Game Case Study: "Ukraine vs. Putin" Game Reskin
Oct 02 2022

HTML5 Game Case Study: "Ukraine vs. Putin" Game Reskin
Oct 02 2022

There was a growing wave of international support for the Ukrainian people shortly after the war began in Ukraine. In the early days of the conflict, Digitap intended to express support for the people of Ukraine and the Ukrainian team members while condemning Putin's aggression toward the world through its popular product, WAM. Below is DoonDookStudio's HTML5 game case study of the "Ukraine-Russia War" campaign, which led to the reskinning of the "Mr. Gun" HTML5 game.
Need More Info About Game Reskin? Our Experts Are Here to Help You!
WAM is the first platform for very casual crypto-gaming. Players compete in tournaments for crypto and non-fungible tokens (NFTs).
"Our founding team and HQ are located in Romania, a neighboring country; our CMO was Ukrainian (now she's raising her newborn son, born 6-7 days before the war). We wanted to support Ukraine any way we knew how." said Daniel Tamas, Co-founder, and CEO at Digitap World SRL.
Due to the WAM team's pressing need to launch this campaign, developing a game with a novel idea and gameplay was highly challenging. So, we told them to use DoonDookStudio's Reskin Service on one of the games they already had in the store.
We're Here to Hep You!
Still Need More Information About Game Reskin? Contact Us and Our Team of Experts Will Gladly Guide You!
Take Me There!
Considering the war and shooting elements that we had to add in such a game, our team suggested "Mr. Gun."
This game, which falls under the category of casual genres, had a lot of qualities that were suitable for their campaign. So, we thought it would be a success because it had a simple, popular game mechanic and was aimed at people who liked skill-based games.
After the WAM team approved and informed us about the desired changes, we had to complete the order in just 1 week.
List Of Changes
One of the challenges our team encountered was the list of changes provided by WAM team. These required changes were diverse, necessitating numerous modifications to the game's graphics and SFXs:
Designing faces for enemies.
Designing 50 custom-made Russian bosses with details.
Changing the music to be cinematic & powerful.
Changing Background.
Adding innocent prisoners.
Adding war elements like tanks, flags, etc.
Adding voices for enemies and innocent people.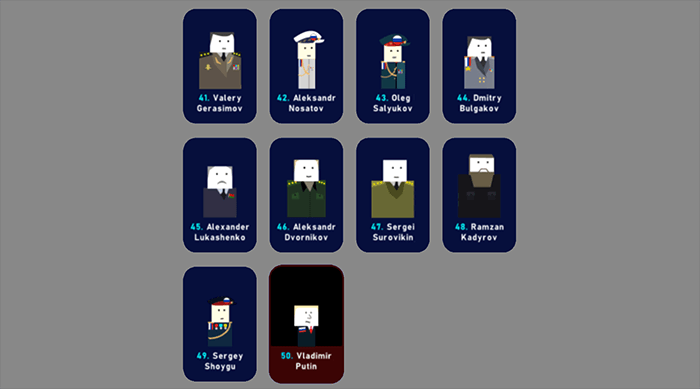 Fortunately, after fixing a few minor bugs, we delivered the game on schedule to the WAM team. We also made it accessible on the WAM platform on May 5, 2022.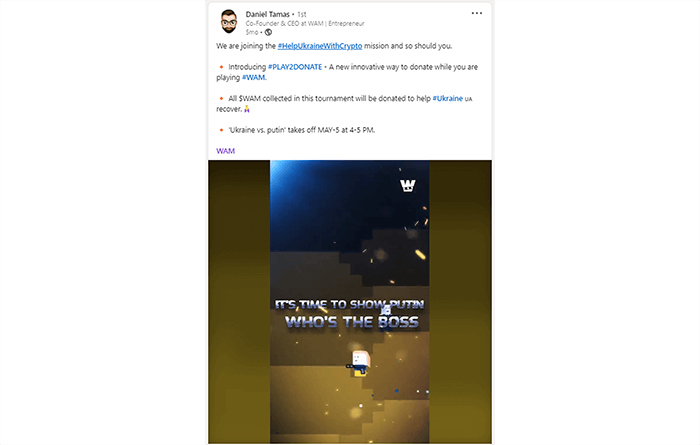 Results

At the end of the campaign, more than 25,000 people had played the game nearly 150,000 times, with an average user involvement of more than 30 minutes, which was a very outstanding result for the "Ukraine vs. Putin" campaign.
Since the campaign was started to support anti-war and charitable causes, our company did not earn a significant financial profit. Instead, all of the money made from the game was given to a non-governmental organization (NGO) in Ukraine.
"The ROI was 0. The game was used in a charity tournament for a month. All the fees collected during this period were donated to a local Ukrainian NGO. Since then, the game has been used in the training mode, where our users play with gems (gems have no value)."
Anca Tamas CPO at Digitap (WAM.app)
It's been great working with DoonDookStudio team, they are super skilled and were receptive to our feedback.
They were quick to edit all the details regarding the Ukraine vs Putin game (this includes the creation of the game design document, research on the leaders we've featured in the game, music, and sounds), the graphics came as requested and the development of the game took less than a month.
Even though the first version we got had a bug here and there, the team was responsive and quick to fix them.
We're Here to Hep You!
Still Need More Information About Game Reskin? Contact Us and Our Team of Experts Will Gladly Guide You!
Take Me There!