How Do FB and TikTok Leverage Social Media Instant Games?
Aug 06 2023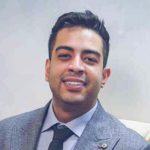 How Do FB and TikTok Leverage Social Media Instant Games?
Aug 06 2023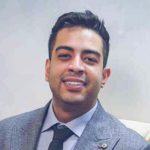 More than a decade has passed since the emergence of modern social platforms, and their popularity as a means of entertainment and communication is still on the rise!
Get FREE Consultation on How You Can Use Instant Games in Your Platform!
During these years, these social networks experienced many ups and downs, and in the path of their growth and development in the digital world, it did not take long for them to venture into the commercial uses of their platform.
One of these commercial uses was the use of games to achieve commercial goals. The integration of social media instant games within platforms, such as Facebook and TikTok, has transformed the their landscape. There are also rumors of a new initiative by Youtube, "playables."
By recognizing the immense potential of gaming, these platforms offer their users captivating and interactive experiences.
However, the use of games is not limited to well-known social platforms. Every brand that has an active presence in the digital world can benefit its business by using games!
In this article, we'll go over the reason and the effects they had for adding gaming features to 3 world-known social platforms: Facebook, TikTok, and YouTube's Playables.
Importance of Gaming in Social Platforms
The ascent of gaming has made a significant impact on social media platforms.
These platforms have added gaming features to their services because they know that games can keep people interested.
By providing higher engagement, higher user retention, and fostering loyalty, games can help the platform get closer to its business goals.
A standout feature of games in these social networks, which sets them apart from other forms of digital games, is their use of the platforms' social aspects and capabilities. Why play alone when you can compete online with friends and acquaintances, showcasing your scores?
In essence, games have been one of the earliest ways to bring people together, and social platforms like Facebook caught onto this trend quickly!
In fact, a 2021 survey highlights the importance of social interaction in gaming, with 84 percent of respondents noting that video games facilitated connections with like-minded individuals.
This emphasis on social engagement has prompted social media platforms to embrace instant gaming, valuable opportunities for entertainment, socialization, and even learning something new.
To gain a deeper understanding, let's go over the differences of these platforms.
Experience High Levels of Engagement Like Never Before!
Whether you're looking to increase engagement, retention, brand awareness or foster loyalty among your audience, we've got your back! Click the button below and consult our experts for FREE!
Learn More
Facebook's Approach to Gaming: Instant Games Platform
Since its introduction in 2018, Facebook Gaming has really taken off as a go-to platform for gaming, live video game streaming, and sharing. It's got some tough competition though, going up against TikTok and Amazon's Twitch.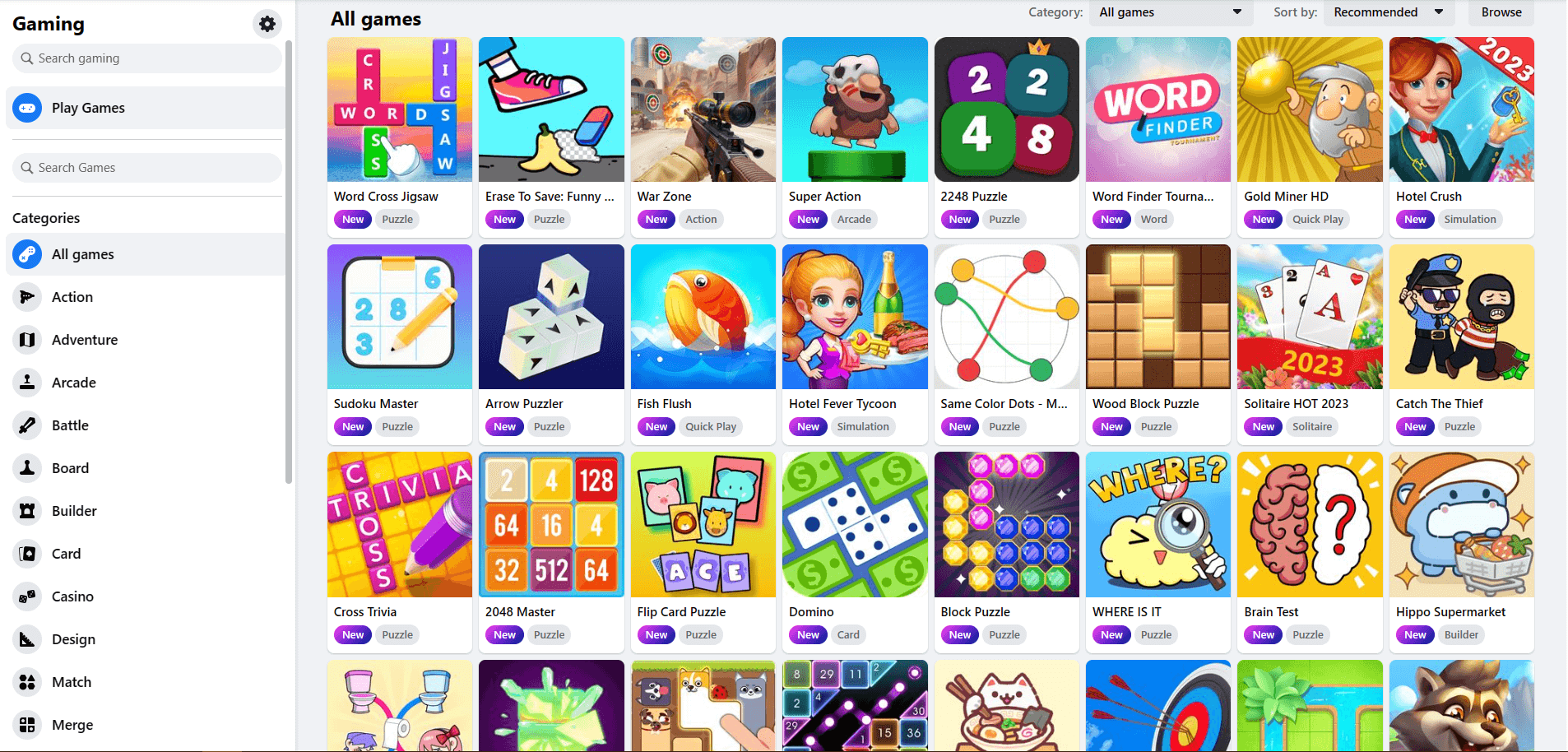 Facebook, or should I say Meta, has played its cards right by using its massive user base to offer valuable opportunities to both users and businesses. One of their successes is the Instant Games platform, which provides a diverse and engaging gaming experience.
As a matter of fact, their gaming platform has kept growing steadily! Over 350 million people play instant games on Facebook every month, which makes that number a clear sign of how popular and appealing FB Instant is to the gaming community.
How the Seamless Integration of Social Media Instant Games Impacts the User Engagement?
The smooth integration of instant games has been a standout feature for Facebook.
Generally speaking, the way an online business integrates games in its offerings significantly influences how users engage with the platform.
Here's what I mean by the perfect integration: Users log in, take their time to discover and play games, and all of this happens within the Facebook ecosystem without users having to leave the platform. An extensive array of games, a pure collection of entertaining games, all-in-one place!
You see where I'm getting to? Such seamless integration of the games into the platform is the main reason.
Additionally, offering such ease of use removes distractions & encourages users to immerse themselves into the gaming experiences without interruption.
You already know what that means: A remarkable surge in users' engagement and retention!
Users will stay on the platform for longer, and take their time exploring the vast array of games offered to them.
In general, the main objective and purpose of Facebook is to empower & facilitate connections among users, and games serve as an excellent means for achieving this goal.
In fact, the platform provides a suitable environment by incorporating sharing features and enabling users to compete within the platform. Undoubtedly, these features hold significant appeal for users.
It's All About The User's Experience
The captivating experience Facebook offers its users not only makes the platform for brand managers a more interesting platform but also creates a thrilling setting that keeps users coming back for more.
You see? That's the true power of perfect integration, a force every online business offering games must be familiar with. In fact, embracing this potential leads to a dynamic and captivating user experience, setting the stage for unrivaled success in the digital realm. Unsurprisingly, with a staggering monthly engagement of over 700 million people participating in gaming activities, Facebook Gaming has already captured a large and dedicated audience.
What is Facebook's Focus for Using Games? How Does It Offer Games?
As one of the oldest social platforms for sharing content with friends and acquaintances, Facebook had implemented the "Instant" section for the same purpose!
It provided an environment for fun, group play, competition, social interaction, and sharing in-game scores and achievements with others!
In fact, Facebook always focused on making gaming a social experience. And they're constantly working on improving the platform to ensure that people can have a great time while connecting with others.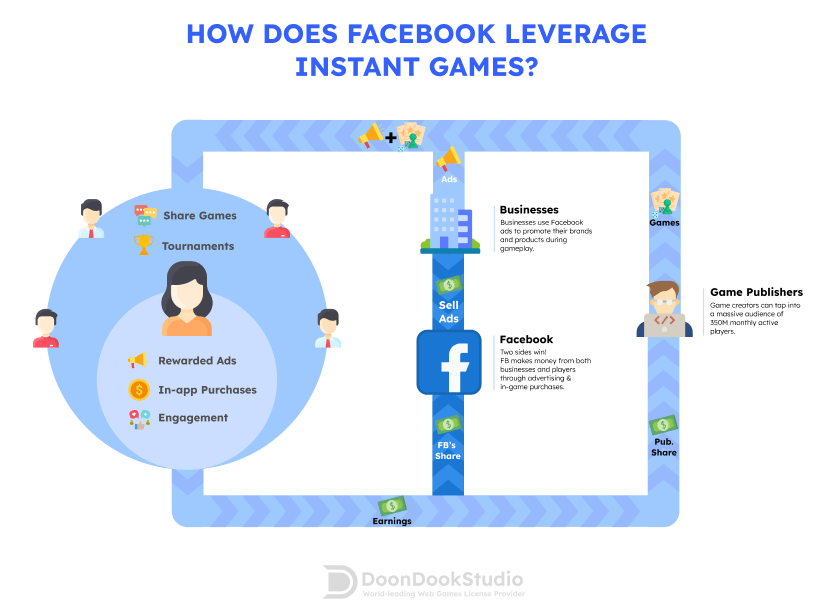 It was all about bringing entertainment and social interactions together in a seamless way.
Every Instant Game Services a Business Needs!
Whether you're looking to increase engagement, retention, brand awareness or foster loyalty among your audience, we've got your back! Click the button below and consult our experts for FREE!
Learn More!
TikTok's Approach to Instant Games: Hyper-casual Games
TikTok was first introduced in September 2016. It was launched by the Chinese tech company ByteDance under the name "Douyin" in China.
In September 2021, TikTok's popularity skyrocketed globally, making it one of the most popular social media platforms in the world. It had amassed an enormous user base and had been downloaded over 2 billion times across various app stores.
In any case, TikTok is yet another platform that has entered the gaming space. It announced its venture with an exclusive title developed by Zynga, Disco Loco 3D.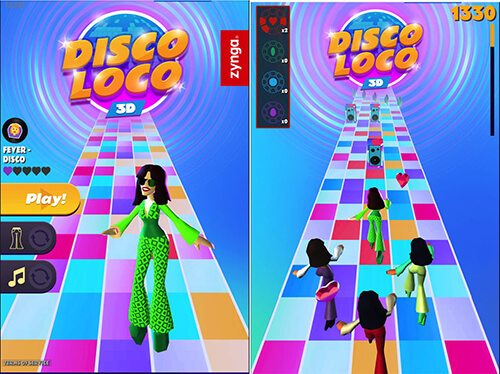 The way TikTok users embraced games on the platform was truly exceptional! The social platform managed to become even more popular thanks to the introduction of hyper casual games, and the hashtag #hypercasualgames garnered a staggering 2.2 billion views.
These numbers helped TikTok to make efforts in expanding its gaming capabilities.
What's TikTok's Focus for Using Games? How Does It Offer Games?
TikTok is a vertical video content-sharing platform. Because of this, the Chinese social platform places greater emphasis on "user retention" and "session duration" within its algorithm.
Actually, TikTok went the extra mile to ensure that gaming seamlessly blended with its usual content sharing format.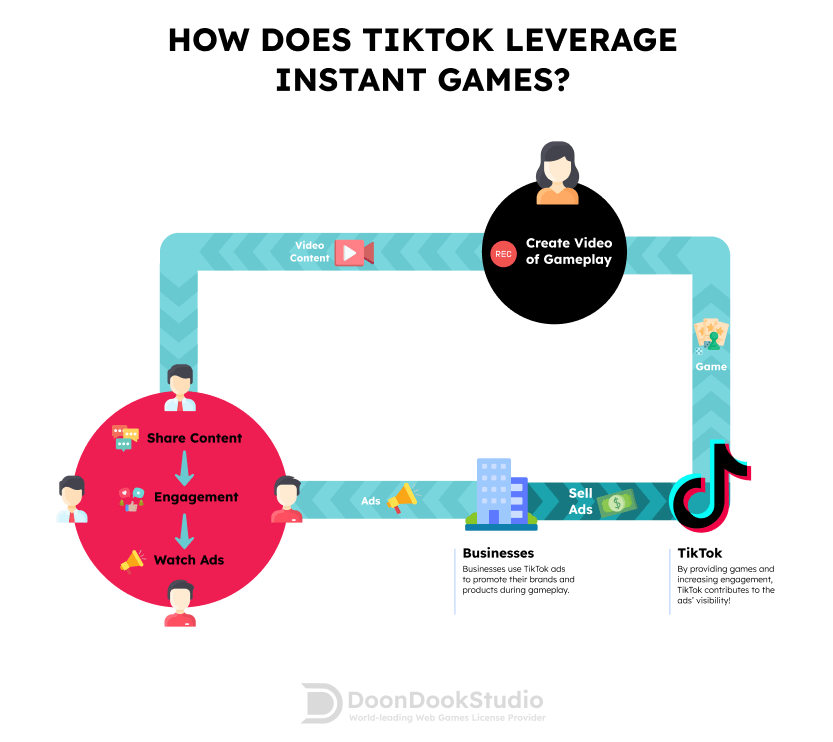 They wanted to keep users engaged and entice them to come back for more. So, they strategically integrated gaming features into the platform, presenting them as "Interactive minigames."
By incorporating these engaging types of games, TikTok aimed to enhance user retention and extend session duration, offering users more captivating content to interact with.
This approach allows TikTok to provide a more immersive and compelling user experience, keeping users engaged and returning to the platform for more.
Brand Awareness, at Its Highest Level!
As mentioned earlier, the distinct feature of TikTok, compared to other platforms is its focus on short, vertical videos.
Just like the videos you see on TikTok, the games on the platform are offered in the same manner and dimensions. They seamlessly blend into the content.
Now, as a business manager who considers adding games, imagine the possibilities when a mini-game showcasing your business's product, brand, or service is placed in the queue of users' videos.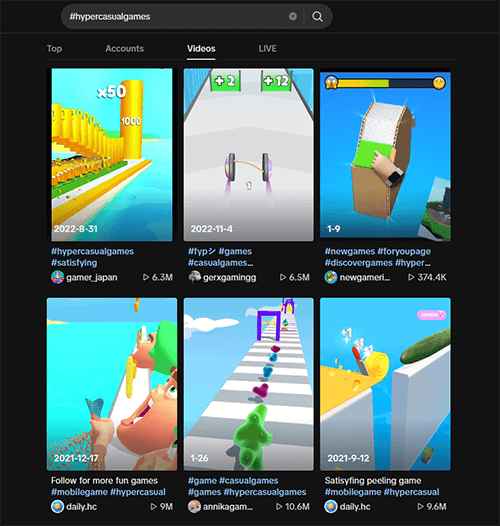 Your promotional game would be (potentially) seen by the entire audience of 1.1 billion users on this platform!
It's an incredible opportunity to boost brand awareness and introduce your business to a vast audience. Can you think of a better way to get your brand out there?
So if you're a business manager who's considering adding games, this might give you a glimpse of games' true power!
Introducing the New Mysterious Addition to Gaming, YouTube's "Playables"
"Playables" has generated considerable excitement as a potential addition to YouTube's gaming offerings by Google. However, the feature is still in the testing phase and has not been officially confirmed or finalized.
While information about "Playables" is currently limited, here is what we have discovered so far:
According to The Wall Street Journal, YouTube is exploring the implementation of a new feature called "Playables," which aims to introduce interactive games to the platform. Google reportedly sent an email to its employees, requesting their participation in testing the feature.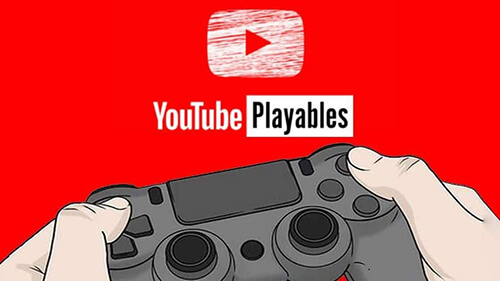 Users would have the opportunity to enjoy these games either through the YouTube app on iOS and Android devices or by accessing them via the browser on desktop computers.
One game that has been mentioned in relation to "Playables" is called "Stack Bounce."
Described as an arcade game where players attempt to break layers of bricks using a bouncing ball, it represents the kind of interactive experience that could be offered.
When questioned about the feature, YouTube neither confirmed its existence nor provided further details.
Google did affirm their longstanding commitment to gaming and experimentation with new features. As of today, there are no official announcements or confirmations regarding the implementation of "Playables".
In any case, due to Google's expertise and experience, and considering their huge user base, we can anticipate a successful gaming addition to Google's video sharing service.
Business Goals and the Gaming Connection
Without a doubt, Facebook, TikTok, and Playables all have game-related business goals. Let's go over some of their major ones together.
One of their major ones is the increased user retention & time spent on the platform.
All these social platforms share common goals: Increasing user retention, engagement, expanding user acquisition and the user base, generating revenue through in-app purchases and advertisements, and fostering brand loyalty and community development.
For Facebook, the gaming service serves as a means to attract and retain users on its platform. It offers a dedicated hub for exploring relevant gaming content and incorporates various features to discover, play and watch live streams.
Facebook Gaming also provides creators with multiple monetization opportunities through its Level Up program, granting access to tools like Stars, Subscriptions, and In-stream ads.
On the other hand, TikTok also recognizes gaming's potential to attract and retain users. To not get behind the competition, the Chinese platform has expanded its gaming features. These features include interactive minigames for TikTok LIVE, and utilizing gaming advertising tools to boost game discovery, sales, and downloads.
All in all, it can be said that the introduction of hyper-casual games on TikTok really did favor the platform.
What Can Business Managers Learn From FB and TikTok?
Facebook
The prominent social platform has a great deal of engaging games on its gaming hub and I'm sure the techniques FB uses, has many unseen lessons for business owners.
Let's go over some of its most essential features that have proved successful during the years.
1. Instant Gratification 
With no loading screens or waiting periods, FB Instant offers quick access to content that gives users immediate enjoyment. All the games are there, without the need for download or waiting. This makes users want to stay on the platform, which equals more engagement and screen time for Facebook.
2. Mobile-Friendly
Today, the majority of users and players prefer their smartphones over other devices. Because of that, FB Instant is fully mobile-optimized.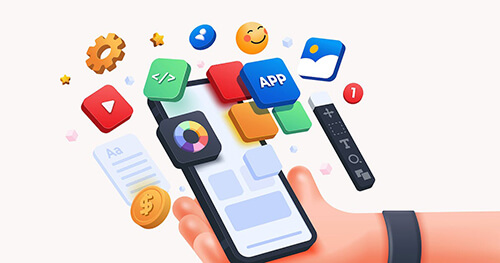 That means it caters to the growing number of users who access content on their smartphones and tablets.
In fact, mobile compatibility is a must for businesses that have native app or platform and managers have to pay extra attention to it.
3. Engaging Content
The platform features all kinds of games. It means the users aren't limited to a particular genre.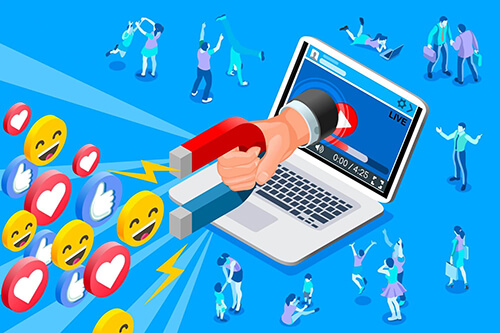 FB Instant allows for all types of interactive and engaging games, such as movie or psychological quizzes, capturing users' attention and keeping them entertained.
4. Social Sharing
Every social platform has one ultimate mission: Connecting people!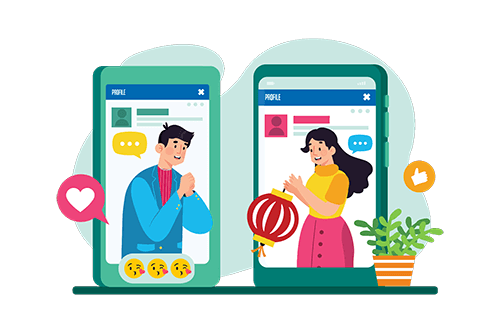 At FB Instant, users can share the game with their friends to compete, or even share their scores on their timeline so their friends know how skilled they are. What you can do as a business manager is to let your users interact, play and connect with each other. In fact, you can provide it through games!
That's a feature that greatly adds to the platform's attractiveness. Especially for those who are in the mood for some competition.
5. Use the Power of Publishers
As you may have seen on FB, there are countless game publishers on the platform. In fact, FB doesn't create games; It provides a great environment for players to entertain themselves and for publishers to generate income. According to Facebook, below are the developer partners of the platform.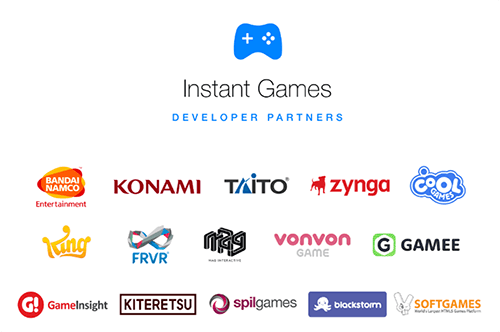 Whether they're individuals or game publishing companies, Facebook allows them to distribute their games on FB Instant. This ensures the platform is always up-to-date with the trendiest games of the market.
Takeaway for Managers
The features mentioned above are all practical lessons that every manager can apply to their business.
So, the next time you want to set up a game portal for your business, don't forget to include other publishers' games on it. It keeps your platform up with the most trendiest games.
Also, go for a variety of games in different genres and make sure that they are fully mobile-compatible. Prepare an engaging environment for your users to play, compete and connect with each other. That's totally achievable through engaging games.
By the way, don't forget about placing the 'share' button. For the reasons you already know, players love them!
Experience High Levels of Engagement Like Never Before!
Whether you're looking to increase engagement, retention, brand awareness or foster loyalty among your audience, we've got your back! Click the button below and consult our experts for FREE!
Learn More
TikTok
Let's hover over the unique gaming features TikTok offers to its users, contributing to its popularity:
1. Simple and Snappy
TikTok games are designed to be simple and engaging. In fact, it perfectly aligns with the platform's quick-bite content style. Since HTML5 games are light-weight and need no download, players can enjoy the fun without investing too much time.
2. Viral Challenges & Potentials
There's one thing we all can agree on; TikTok users love challenges!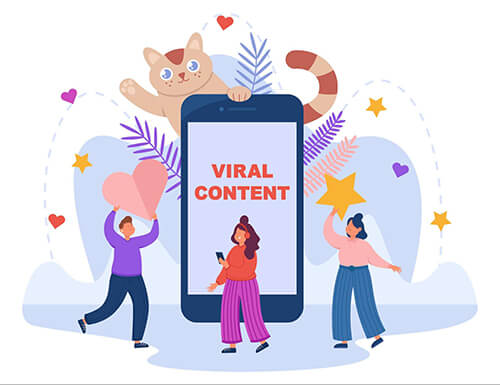 Interestingly, TikTok's games embody the platform's viral nature. Users love participating in challenges and sharing their experiences. Such participation ultimately leads to creating a snowball effect of popularity for TikTok!
3. User-Generated Content
On TikTok, users can create short, vertical-format video contents from their gameplay. By doing so, users can promote creativity and personalized experiences that resonate with a broader community.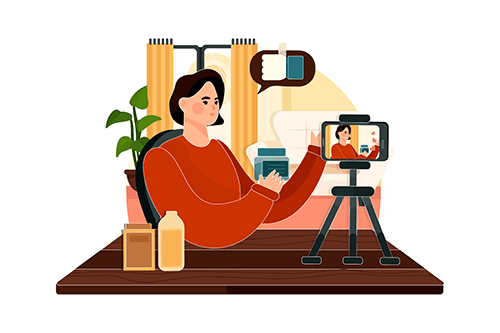 In fact, such a feature helps like-minded users to find and connect with each other. Ultimately, it leads to a much higher user engagement for TikTok.
Takeaway for Managers
Long story short, if your business has a native app, consider integrating a gaming platform into it.
However, there's a crucial aspect to consider: while setting up your game portal, ensure to choose the design, games, and features that align with your business's field of activity and niche.
As another fun feature, you can introduce business-related challenges to your users and intrigue them for more participation and engagement. The last few years have proved how popular they are!
Also, allowing users to submit user-generated contents is a good idea, too. It ensures your platform will never run out of fresh contents.
In any case, by applying the aforementioned features mentioned above, your business will greatly benefit from increased user acquisition, engagement, loyalty and retention drastically in the long run.
What is the Future Outlook for These Platforms?
Given the ever-changing nature of industries and businesses' increasing reliance on technology, predicting the future trajectory is tricky.
Nonetheless, given the rapid progress and high demand for high-quality web games in a business context, we can expect HTML5 games to thrive in the future.
What's the Outlook for TikTok?
In any case, I could predict two scenarios for TikTok:
Considering scenario 1, given TikTok's existing popularity and large user base, it can potentially evolve into a central game hub.
That means game publishers will have the opportunity to present their creations on the platform, turning it into a vast library of games.
Consequently, TikTok will probably introduce fresh methods for users to make in-app purchases, creating exciting possibilities for monetization.
This enjoyable fusion of short videos and entertaining games will enhance the overall experience, making TikTok an even more captivating and entertaining platform to be on.
As for the 2nd scenario, given its Chinese origin, TikTok may continue to keep a restricted number of game publishers on its platform and prioritize video content creation related to games.
With this approach, game-related content will likely receive more likes and views, attracting a significant audience.
TikTok can leverage the popularity of these game-related videos to promote even more user-generated content. By doing so, the platform can maintain its focus on engaging video content while encouraging users to create and share their compelling videos.
What's the Outlook for Facebook Gaming?
With such a huge user base, it is no surprise that the number of Facebook's monthly active users, which stood at 350 million earlier, is expected to have grown even further.
As mentioned, the platform's primary mission is to utilize games to establish user connections.
One potential scenario could be Facebook integrating its gaming platform with other Meta products such as Instagram (IG) and WhatsApp, thus creating an environment for cross-platform competition.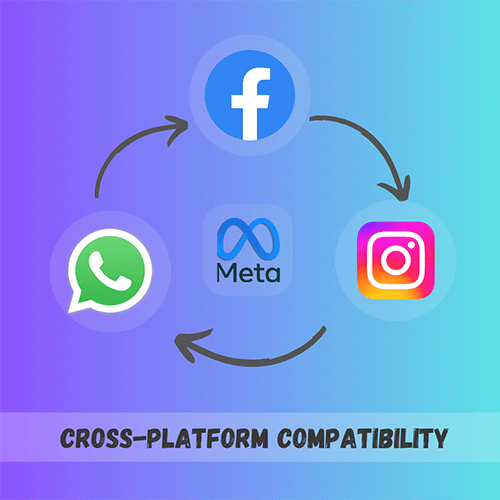 That means that users on Threads and Instagram could connect and play games with Facebook users seamlessly. Such integration could lead to a more engaging and interconnected experience for all Meta platform users.
What About 'Playables'?
While exploring Youtube's "playables" feature, there is currently no clear indication or information regarding the functionality of web games on this platform.
However, considering Youtube's significant influence in the digital realm (2.6 billion monthly users) and the extensive user base associated with Google (4.3 billion users), we can confidently predict that if Youtube decides to launch its latest gaming initiative, it is unlikely to lag behind FB Gaming and TikTok in terms of success and popularity.
In fact, we can expect YouTube to go beyond casual games, utilizing improved HTML5 technology for more profound and complex games from reputable publishers. This will diversify the platform and cater to gaming enthusiasts, making YouTube an enticing destination for interactive content.
The Evolving Landscape of Gaming & Social Media Integration
Integrating social media instant games in platforms will potentially continue to evolve, leading to a more immersive and engaging gaming experience for users.
Social media platforms already recognize the growing demand for lightweight, engaging, and interactive entertainment, and they will try harder to enhance their capabilities to support and promote web-based games.
With the current trend, we can anticipate increased cross-platform integration, which means players have more options for sharing their gaming experiences, achievements, and challenges with their social media networks.
This integration will foster stronger communities of audiences and drive the general growth of trendy, popular web games.
Social media platforms may also introduce innovative features like prize-winning virtual tournaments and create new avenues for gamers to connect and compete.

Conclusion
Using games to reach business goals is a new trend & doesn't seem to disappear anytime soon in the digital world. Therefore, owners and managers of online businesses must remain vigilant and take advantage of this commercial opportunity.
When we look at how companies like Facebook and TikTok use games, we can better understand the true power of engaging games.
You can take advantage of the potential of these popular global trends by using these interactive games in a way that fits with the nature of your business.
As previously mentioned, these games can be utilized in various ways and formats across almost all devices. In fact, managers can maximize the impact of such games by incorporating features like sharing options, partnering with individual publishers, integrating user-generated content, and creating entertaining viral challenges, among other strategies.
Are you considering using these games for your business, too? Leverage our expertise in delivering captivating and high-quality games! With our team of experts, we have everything needed to help you achieve your business objectives!
To explore potential business collaborations and to discover how your business can benefit form HTML5 games, all you have to do is to contact us and our team of experts will get back to you to discuss the collaboration opportunities.
Every Instant Game Services a Business Needs!
Whether you're looking to increase engagement, retention, brand awareness or foster loyalty among your audience, we've got your back! Click the button below and consult our experts for FREE!
Learn More!