7 Popular Genres of Casual Games – Why You Should Use them?
Nov 02 2022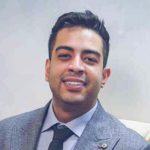 7 Popular Genres of Casual Games – Why You Should Use them?
Nov 02 2022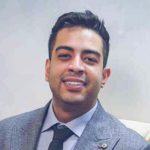 Have you ever wondered what a casual game is? Do you know why they're called casual games? What are the most profitable HTML5 casual games for a portal owner?
You might already know the answer, but this article will help you get familiar with popular casual game genres
In this article, we're going to talk about the most profitable HTML5 casual games.
Already Know What Games You Need On Your Portal? Let's Find Out Where You Can Get Them!
When we say a video game is casual, we usually mean a specific type of gameplay. These are simple games that demand minimal mental effort from the player. Hardcore gamers frequently underestimate them, while diehard fans adore playing them daily.
Do You Know Where to Look for Them?
Get to know the top HTML5 game providers with the most popular games in many different genres. They're waiting for you!
GET STARTED
What is The Difference Between Casual Games & Hyper-Casual Genre?
The simplicity of gameplay, graphics, and game mechanics distinguish casual games from hyper-casual games. Casual games are fun, easy to get hooked on, and take up much time.
However, if you compare them to hyper-casual games, you'll find that the latter is more straightforward, lighter, and easier to understand.
In any case, let's discuss casual games' genres with the highest profitability.
Most Profitable Genres of Casual Games
Before going over HTML5 casual game genres, it is essential to note that while some of them are more popular than others, it is not the only measure of game success or popularity. For a game to succeed, other important factors (such as smooth gameplay, user engagement, and responsiveness) must also be considered, as discussed in the article 7 Tips for Buying Profitable HTML5 Games License.
Puzzle
It is one of the most popular genres of casual games. Puzzle games are primarily about logical and conceptual challenges but can also include time limits or other action elements. Even though many actions and adventure games have puzzles, such as getting to out-of-reach objects, a puzzle game is primarily about solving puzzles.
Puzzle games are the most popular genre in the World, accounting for more than 60% of all players in all markets. With 45% of players, South Korea is the second most popular genre. In Japan, 38% of gamers enjoy puzzle games.
In the US, 75% of players of word games, board games, and matching puzzles are women. Also, 74% of puzzle players in the UK are female, too.
However, in all markets, the majority of puzzle players are older than 35.
It is worth noting that matching puzzles are the most popular type of puzzle game in all markets. They are so popular because they are entertaining, simple, and addictive.
According to Statista, Candy Crush Saga was the most downloaded free puzzle game in the world in July 2022, with over 13.94 million downloads across Google Play and the Apple App Store. Fill The Fridge came in second place, with 14.29 million global downloads.
Arcade Games
Simplistic presentation, environments, and rules are hallmarks of the arcade genre. These games usually progress through increasing difficulty instead of adding complexity by introducing new characters, controls, or mechanics.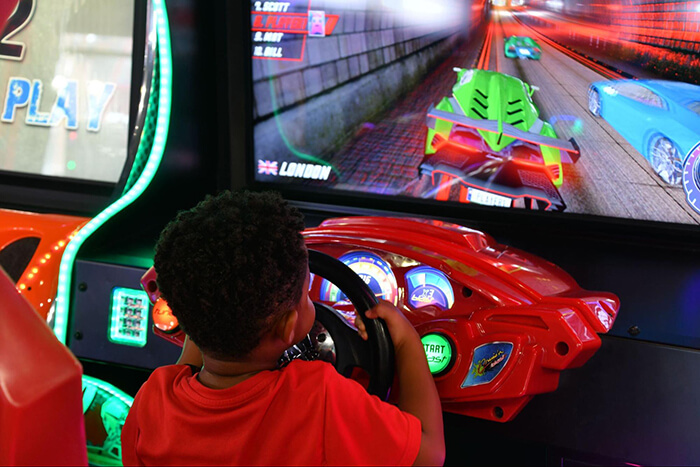 They usually have short levels (many of them have no leveling system) that get harder quickly and have easy-to-use controls. For this type of game to make money, it needs to be hard enough that players lose and the game is over, and it also needs to be exciting or addicting to keep players coming back.
"Golden Age" of arcade games often falls between the late 1970s and the mid-1980s..
In this time period, we saw the release of iconic games like "Space Invaders" (1978), "Asteroids" (1979) (a vector-based version), and "Pac-Man" (1980).
Board Games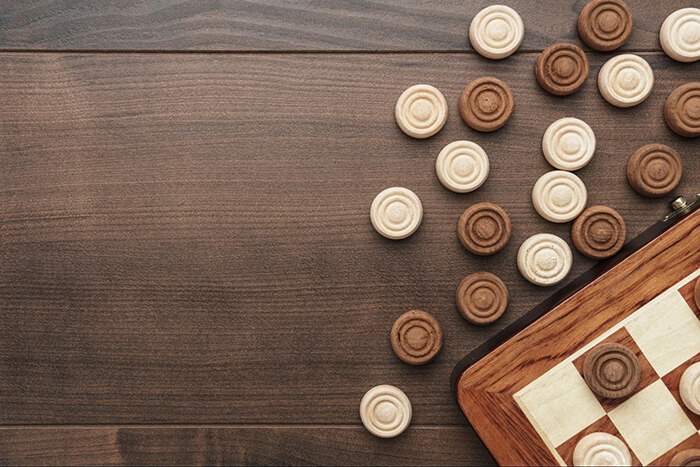 Good, old-fashioned board games have been around long and keep players entertained with engaging, fun gameplay. They are (traditional ones) usually party games that bring together a large group of people to compete against one another or work together toward a mutual goal.
Here Are Some Facts and Statistics for Board Game Demography:
According to PR Newswire, the global board game sector was only worth $7.2 billion in 2017, but by 2023, global revenue from board game sales is expected to reach $12 billion.
Regarding board game popularity facts and figures, Statista discovered that nearly 40% of female participants thought board games are enjoyable to play. In comparison, only 29% of male respondents agreed.
Board games are most popular among people between the ages of 25 and 54, according to Meeple Mountain.
As reported by PrintNinja, 22% of gamers spend more than $1,000 annually on board games.
Here's How Much Board Game Fans Spent on New Games in 2017, According to PrintNinja: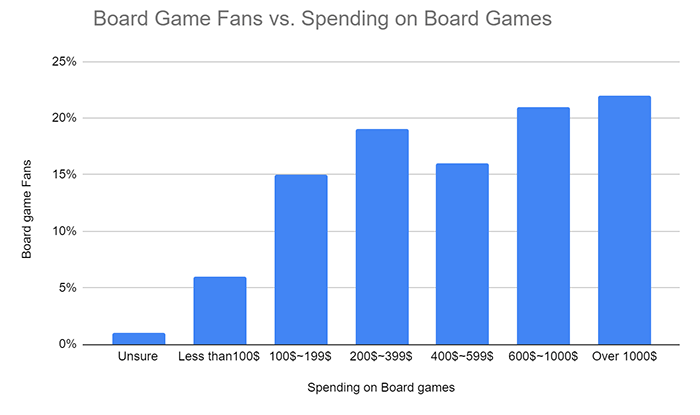 On average, 43% of board game fans spend more than 500$ on this particular genre.
As you can see, most customers are willing to spend money on games they think they will like.
In general, board games are among the most well-liked and suitable games for seniors.
With chess at the top, the next five most popular board games are checkers, backgammon, Monopoly, Scrabble, and Ludo.
Whether you prefer to play the best card games or think ten steps ahead in one of your favorite strategy board games, one of these classic board games will appeal to you.
Card Games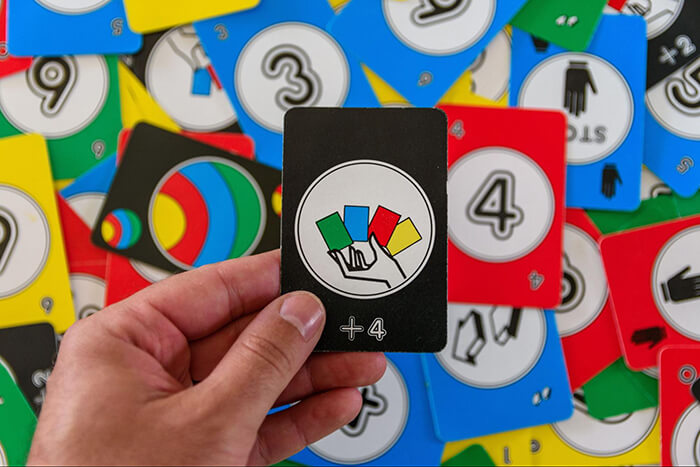 Card games are popular, whether they're in the form of HTML5 games or physical ones. You've probably played them on your smartphone with family members, friends, or even casually with other players worldwide. They are amusing, entertaining, and occasionally educational. The most crucial feature of such games is that they are inherently social games, and playing with a group of people rather than AI doubles the fun!
While you may believe that boomers (people born between 1946 and 1964) are the primary audience for card games and that these are not the games suitable for kids due to the dynamics and uninteresting gameplay, you are mistaken.
Actually, many young people enjoy playing them, and you would be surprised by the diversity of card game demographics.
Uno!, Solitaire, and Clash Royale are some of the most popular examples of card games.
What Do the Demographics Say?
As you can see, the target demographic for this particular game is quite young. 34% of the audience is between the ages of 18 and 24 (13% female and 21% male), while 29% is between the ages of 25 and 34 (8% female and 21% male). Only a small percentage of the audience is over the age of 44. This proves that card games are popular among millennials and even Generation Z (born between 1997 to 2012).There are almost countless card games to choose from, both classic and new. Blackjack, Poker, Solitaire and other well-known classic card games are among the most popular and well-known, but there are many newer titles that have attracted many players worldwide.
Among them are Magic, Legend of Runnetera, and GWENT. We strongly recommend you try playing them.
Casino Games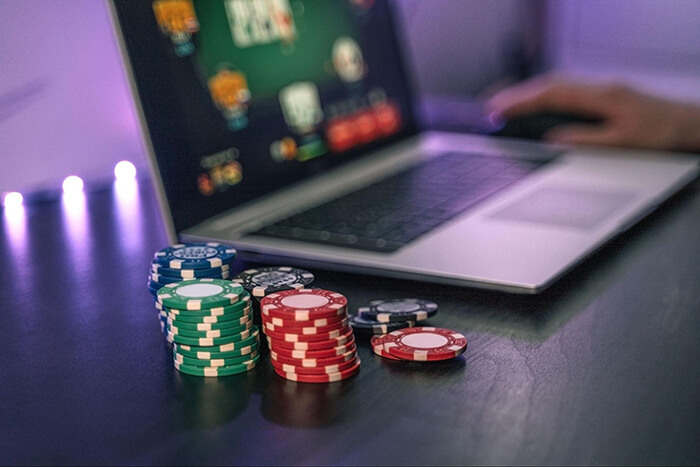 Whether you've played them on your mobile phone, pc or famous casinos around the world, you know what this genre is about and how these types of games are a combination of luck and logic.Needless to say, casino games provide all the fun elements just like real casinos. However, sometimes the entertainment and passing some time is enough and people are not eager to gamble with real money.
The figure below demonstrates which casino games are more popular in the US, UK and Australia.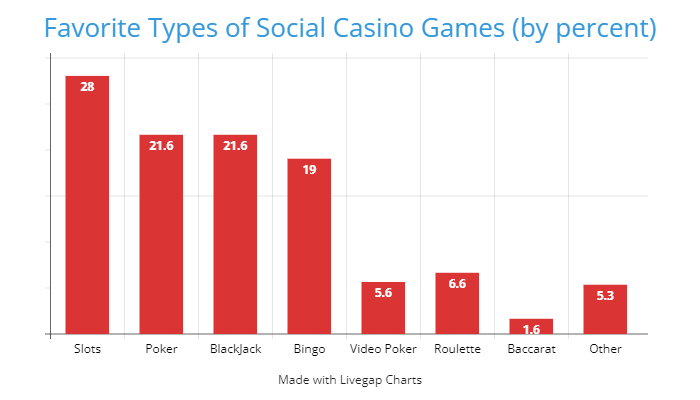 When it comes to casino games, your options are limited compared to other casual game subgenres.
Well-known casino games such as Slot machines, Roulette, and Baccarat fall into this category of casual games. Despite the fact that your options in this genre are limited, these games are always a convenient and low-cost alternative that can remind your customers of casinos they've visited in Las Vegas or Atlanta.
At mobile casinos, you can play Canasta, Roulette, and Poker. Other games available include slots, keno, etc.
Trivia Games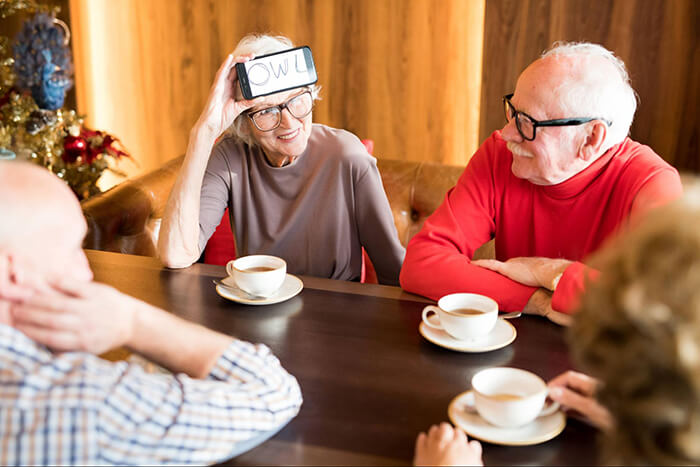 Trivia is a type of game where players (solo or as a team) try to answer as many questions correctly as possible about various topics. Most of the time, trivia contests are part of events, parties, or entertainment at bars. Competition participants are generally grouped into teams, and the team with the highest score wins.
According to Statista, in 2022, the number of downloads in the Trivia Games segment is expected to reach 1,297.5 million. Also, the average revenue per download is currently around $0.17. It is worth noting that women play trivia games much more than men across all ages. We couldn't find any data on the age group of trivia games players.
However, A global comparison reveals that the United States generates the most revenue ($103.80M in 2022).
Jeopardy, Trivia Crack 2, and Psych! are three of the most popular and well-known trivia games.
Word Games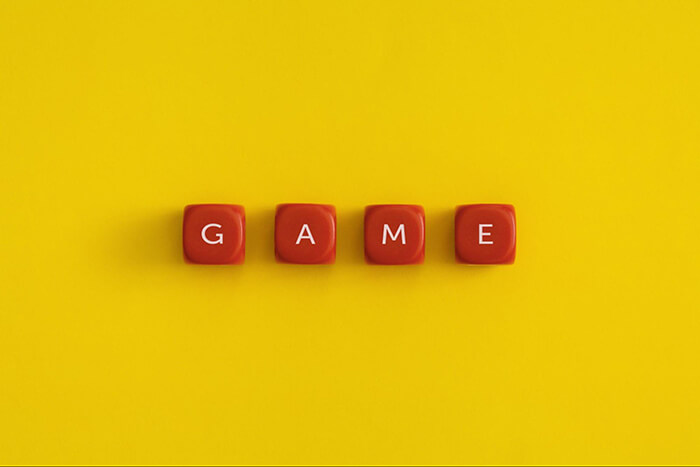 Word Games (AKA Word game puzzles or Word search games) are spoken, board or video games frequently designed to test or explore the properties of language.
The primary purpose of word games is entertainment, but they can also be educational. For example, young children can have fun playing games like Hangman while developing essential language skills like spelling.
You've probably heard of the game "Wordle."
A new Morning Consult poll found that 14% of US adults are involved, with millennials leading the way. In any case, the infographic below shows how frequently people play word games.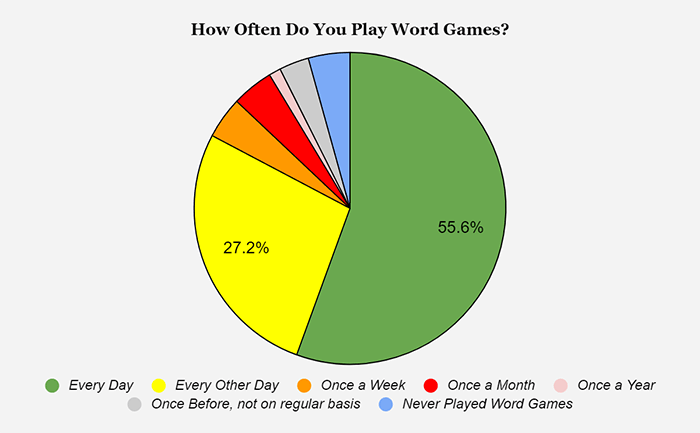 Some of the most popular word games include Scrabble Go, Word Swipe, and Wordscapes.
Casual Games' Statistics in a Nutshell
Before we get into conclusion, let's talk about the number of downloads and the MAU indicator. Although knowing how many times each genre has been downloaded is an excellent measurement tool, the number of downloads is not an accurate measure of a game's success.
As a general rule, only 30% of downloads are effective. The only thing it indicates is the number of downloads and installations of your game. It does not reveal how much your users enjoyed that game.
On the other hand, the MAU index is a helpful tool that measures how engaged a user has been over the past 30 days. Based on this, you can determine which game has been the users' favorite.
However, SurveyMonkey found that in July 2016, mobile games' Action and Arcade genres were the most popular in the United States and had the highest download rate.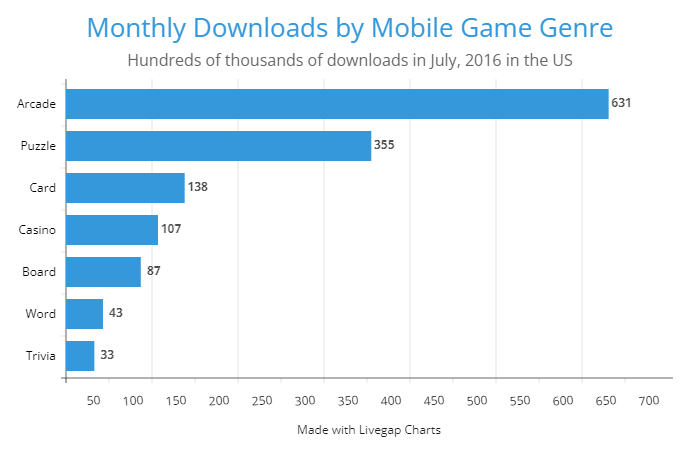 The figure below shows the Monthly Active Users (MAU) which tracks the number of users who open a mobile game's app at least once every 30 days. As mentioned earlier, it is a more accurate behavioral indicator of popularity than downloads.
Conclusion
The purpose of this article was to introduce you to casual games and their genres. You now have a better idea of what genre you need to request from HTML5 game providers. As we previously mentioned, each of these categories has a devoted following, and contrary to popular belief, many of them are adult gamers.
However, the success and popularity of a game is determined by the number of downloads, a high MAU, and the number of portals that have published it. As you have noticed, many of the links provided in this article redirect you to the Play Store. However, it is worth noting that if a game does well on iOS or Android's app stores, it will almost certainly do well in its web version.
To conclude, it's clear that there is no single best-selling video game to invest in. There is no single genre that can cater to all players. Consider which sub-genre is in high demand when purchasing HTML5 casual games for your portal. Our recommendation for you in this regard is to include a wide variety of game subgenres in your portal.
It is better for your portal to have at least a few games in each category. You can also buy game bundles, which are usually more cost-effective, and it's one of those rare occasions when "Less is More." They frequently contain a variety of games from different genres and can significantly help in the growth of your HTML5 game portal.
Most importantly, you should be aware that every game can have multiple genres. It could be a hybrid of two or more genres. For the first step, we recommend you assess your customers' preferences and choose the most profitable option based on your budget. However, if you want to do it safely, we recommend sticking to well-known titles like Pacman, Wordle, Tetris, etc. In any case, we also have an article about the benefits of HTML5 games for businesses. We recommend you check them out.
Do You Know Where to Look for Them?
Get to know the top HTML5 game providers with the most popular games in many different genres. They're waiting for you!
GET STARTED