Most Popular FB Instant Games You Should Have in Your Portal
Jan 29 2023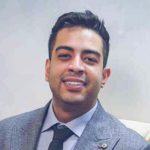 Most Popular FB Instant Games You Should Have in Your Portal
Jan 29 2023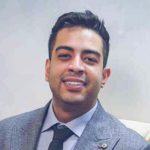 With 2.96 billion users worldwide, Facebook is one of the most popular social networks, and in recent years, the HTML5 games market has been hugely affected by Facebook Gaming.
But do you know which games are the most popular on this platform? Do you know where to find similar games?
As you may already know, Facebook's most-played games are an excellent predictor of popular trends in the HTML5 games market.
If you're a game publisher (either on your own game portal or on Facebook) and wish to attract more users, you can benefit from the similar mechanics and gameplay of these games.
Check Out Our Games Similar to Facebook's Most-played Ones!
This article will discuss the most popular Facebook games and the features that make them trendy. I will also introduce you to HTML5 game publishers that offer similar game licenses to publish for your users.
Basketball FRVR
Basketball FRVR, the most popular of Facebook's instant games, was developed by the FRVR studio, which also has Golddigger, Food Tycoon, and Hex in its game library.
It is a sports game that usually has a lot of casual fans all over the world. However, the game's objective is to score as many points as possible by aiming and shooting a basketball through a hoop controlled by the mouse or touch screen.
There's a streak system in this game; with each successful throw, the player's points will be multiplied. However, the streak will reset if the player misses their next throw.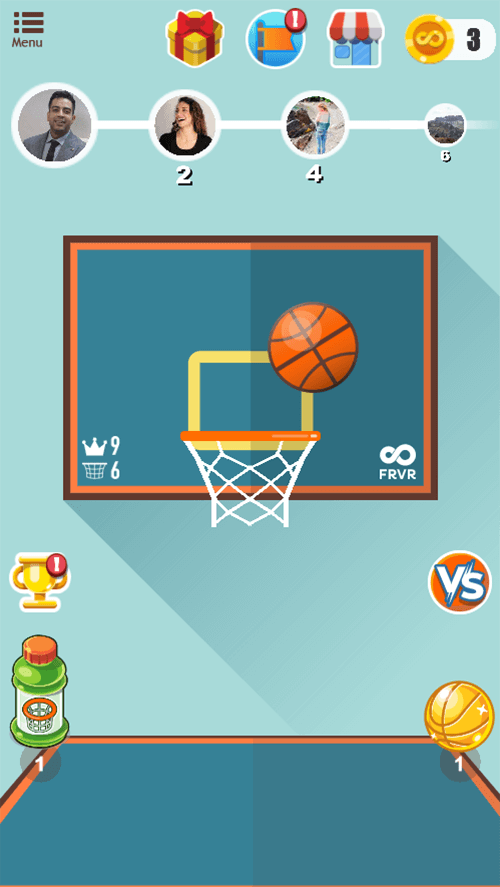 In this game, with each successful throw, the difficulty level increases, and the hoop begins to move, giving the player a challenge.
As of today, this game on Facebook Instant Games has been played 10 million times and is at the top of the list of the most popular games. It is considered the most successful title on this platform.
Equip your portal with the best FB Gaming games!
Don't Miss Our Games Comparable to Facebook's Most-played Ones!
Take Me There!
Basketball Throwing Challenge Made Fun
After playing this game for a round or two, here are the features I found so appealing:
Upbeat Music. The auditory element of the game is entirely compatible with the game.
The Game Creates a Sense of Competitiveness. Typically, you'll play against the leaderboard of other players, and you can see who is leading and behind you. Plus, the game allows you to invite your friends for a round of basketball throw challenges.
The Game Becomes a Hardcore Challenge Instantly. After the first successful throw, the hoop moves, making the next successful throw a challenge.
Streaks. The game has a streak (combo) system for successful throws, multiplying their points. That certainly adds to the game's thrill.
However, in my opinion, I think the game could've employed a better polish to create more satisfaction for the player, especially when they're scoring or overtaking their opponent's score.
Available Game Licenses of Similar Games
Bubble Shooter Pro
Bubble Shooter Pro is arguably one of the most addictive games on this list. You can easily lose track of time while playing this game, as it can keep you occupied for hours.
This game is endless, and the player's objective is to score as many points as possible by popping all bubbles on the board. The greater the number of bubbles pop in a single shot, the greater the player's score. For this, the player only needs to match two or more bubbles with the color of the ball he shoots to pop them.
However, if the player performs poorly at popping the bubbles and keeps missing, a new row of bubbles will be added to the board, facing the player with some extra challenge.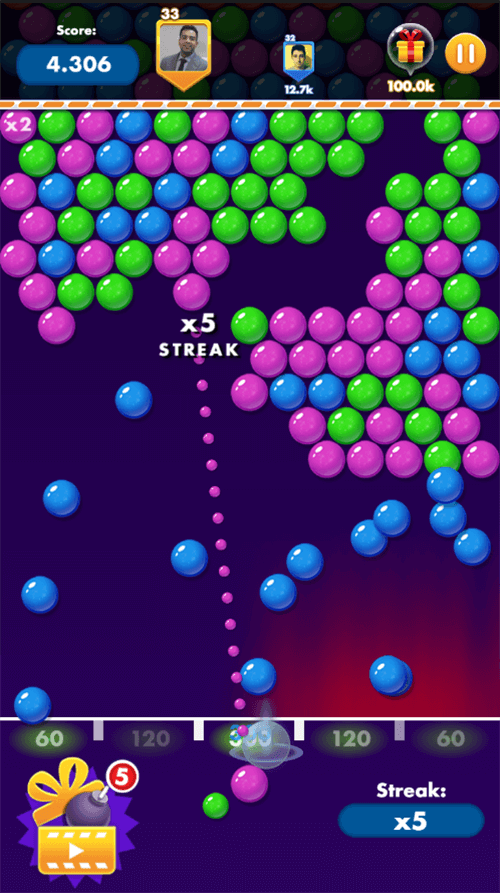 There have been over 6.9 million plays of the game on Facebook Instant, putting it in the second rank. However, the total number of downloads from Google Play, App Store, and other credible stores is undoubtedly much higher.
Blast Them Off
Here's what I found interesting about this game after playing it for a while:
You'll Face Competition! As soon as you start the game, the high-score profile picture of your next-in-rank opponent will appear. This adds to the game's competitiveness.
The Game Is More Challenging Than It Looks. It starts with three different colored bubbles, and as soon as you beat your next opponent's score, new colors are added to overwhelm you.
Bonus Boosters: After popping a certain number of bubbles, the game gives you free boosters e.g., bombs to temporarily clear out the board and score more points.
Bubble Shooter Pro doesn't have any music, which may be a disappointment for many. However, the sound of the bubbles popping and blasting is very satisfying. Most players probably wouldn't even notice it isn't there.
Available Game Licenses of Similar Games
Magic Swap Puzzle
Everyone loves jigsaw puzzles, and Magic Swap Puzzle is one of the most popular Facebook instant games. In fact, it is one of the most popular puzzle games out there, with a massive image library.
This game holds over 30,000 high-quality HD images that, like all puzzle games, require the player to place the pieces in the correct position to complete the image.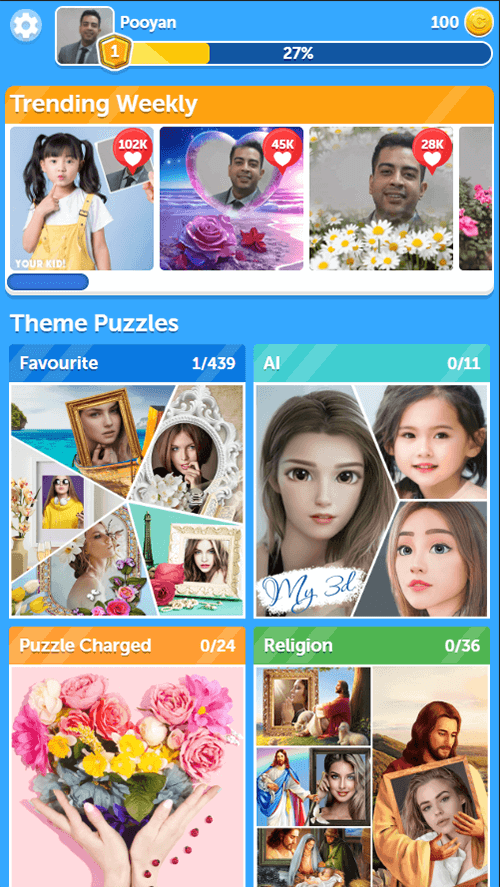 New photos are added to this game daily, which is an intriguing feature. Also, this game has gotten impressive statistics in major markets like AppStore and Google play.
That being said, it is now the fourth most popular FB game, with 6.1 million plays.
A New Approach to Jigsaw Puzzles
After spending some time with this game, here's what I noticed:
The Puzzles Are All About Your Facebook Profile Picture! Honestly, I don't appreciate solving my profile picture puzzle every time. I mean, some variety would be nice. But I guess Facebook players have another opinion. However, some image frames are cool, and people might find them enjoyable to solve.
Huge Image Library. Having a library of 30000 HD photo designs and regularly adding to it is a significant feature and shows how committed the devs are.
You Are in Charge of Your Puzzle's Difficulty. Would you like your picture in a 9-piece puzzle or a 36-piece one?
Available Game Licenses of Similar Games
Kitty Scramble
Kitty Scramble is arguably the best Facebook instant word game. The goal of this game is to use letter blocks to find the words.
As you progress through the game, you'll need to rely on your own precision and wits and on the in-game items and hints you've collected along the way because it will become more challenging as you progress.
Kitty Scramble is, without a doubt, one of the most popular Facebook instant games, with massive downloads from the App Store and Google Play.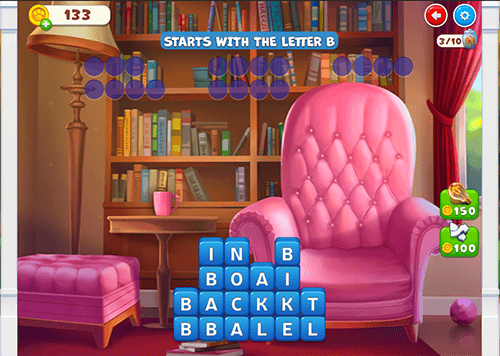 It is currently the sixth most popular on Facebook, with 3.8 million players. To better understand this game's beauty, it is best to have a look at its user reviews.
A Word Game Both Fun and Relaxing
I played this game for a good amount and already loved it. Here are what I found the most appealing::
Awesome Visual Elements. When I started the game, I first noticed the smooth and eye-catching graphical elements of the game. Whoever chose the level background design really knew what they were doing.
It's Music to the Ear. The music choice is awesome. There's happy melodic music playing in the background, totally compatible with the game's mood and gameplay.
Reward System. The game features finding hidden words. It means there are hidden words in the game; after finding a specific number of them, you'll have access to the other locations. Also, this system gives you a sense of accomplishment. Also, upon completing each level, the firecrackers start popping, and the cat starts to purr with a glass of smoothie in its hands. I liked that kind of closure for completing levels.
Available Game Licenses of Similar Games
Ludo King
This game is defined as the most popular game of 2022, with more than 500 million downloads on Google Play and App Store, and the most record-breaking game in mobile game history.
Ludo is a competitive strategy game in which players can compete individually or in teams of two. A player wins the game by getting all of his pieces into his own side's "safe houses" before his opponent does. But it's also not that easy.
Sometimes dice aren't on your side, and other players' pieces can attack an opponent's piece and send it back to the starting line.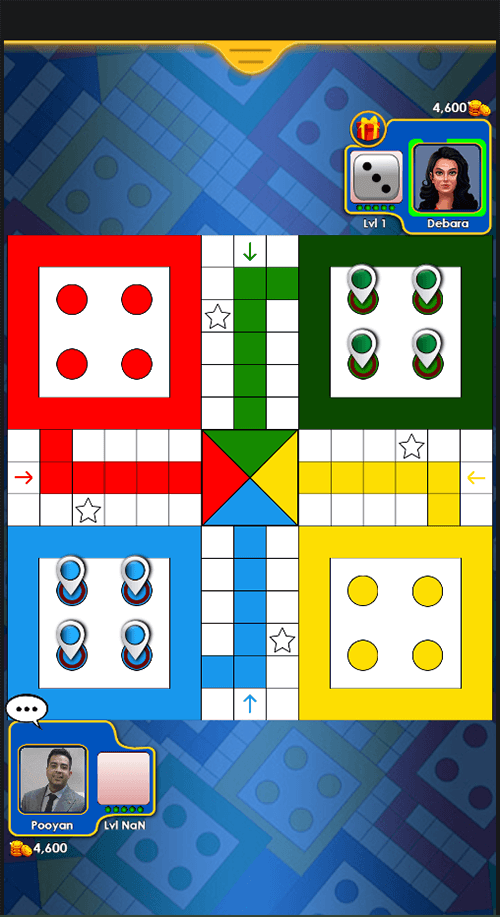 Ludo King has become one of the most popular games on Facebook due to its sense of competition and multiplayer essence. There are currently 1.6 million players for this game on Facebook Instant Games.
Classic Game, Modern Features
I played a round of Ludo King, and here's what I found:
A New Approach to a Classic Game. Ludo is played by millions of people worldwide and has fixed rules. However, this game also features a Rush Mode in which some rules differ from the classic ones.
The Ability to Play With Friends. You can either play with your friends, or you can play against a group of other people.
Invite and Earn. The game allows you to invite your friends to try it; if they do, it will give you complimentary items. E.g., a cool dice with no in-game utility.
Entry Fee. Before starting the match, the game asks you how much you would like to pay as an entry fee. It is both fun and a way to group same-leveled players in a match.
1v1 or 2v2? The game allows you to play both 1v1 and 2v2 against a friend or other FB users.
No Worries If You Can't Play. If you have to abandon the game for a few minutes or there's an incoming video call from your colleague, the game's bot will take control of stuff and plays the game for you.
Available Game Licenses of Similar Games
Collect Em All
Collect 'Em All is one of the best puzzle games of the last few years and ranked 13th in the App Store. The game is just as favorable on Google Play, which has a 4.5 rating there.
The objective of this game is to connect and clear the dots of the same color. What's interesting about this game is that it's fun, relaxing, challenging, and requires strategy simultaneously.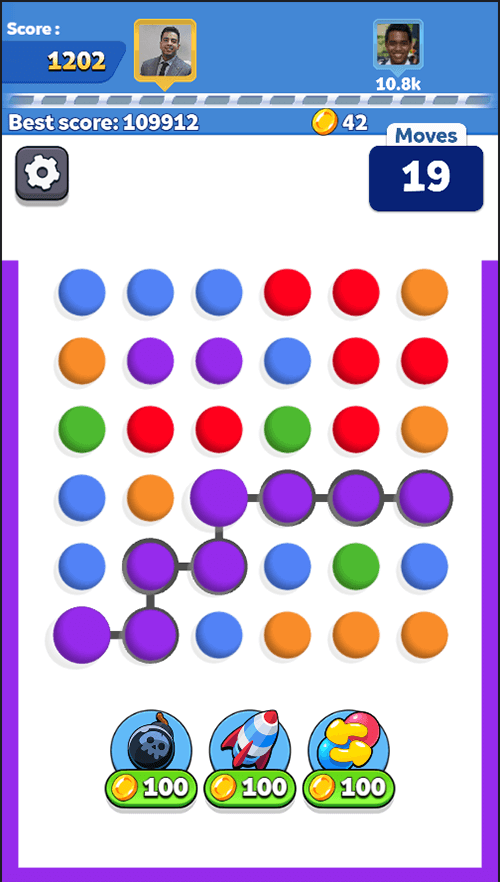 The player must complete the levels in the number of moves specified by each level. Also, the longer the chain of connections, the faster the level can be completed.
Additionally, with 2.1 million players, this game is ranked 10th in Facebook Instant Games.
Let's Pop Some Dots!
I played Collect Em All for two rounds and here's what I found:
Calling the Rockets. Whenever you connect a specific number of tiles, you'll receive a four-headed rocket that blasts many tiles at once. Also, you'll get an extra turn, too.
In-game Hints. The game comes to your aid whenever you try to figure out which route to take for connecting the dots, flashing them, so you know if you want to start from there. That's usually not the best option available, but that works.
Limited Moves. Players have a limited number of moves. So, they better think ahead of their moves.
Boosters. There are some cool boosters in the game that you can buy using your in-game coins. They come in handy when there are not so many options for you.
Sense of Competition: While playing, players can see their next-in-rank opponent's score. As you connect more dots and accumulate more points, you'll notice your profile picture is closing-in to the opponent's points. That gives players a sense of competition.
There is no music in the game, and the only thing the player can hear is the sound of the tiles popping. Also, this game doesn't have the option to play with your friends. You'll be playing against other users' high scores.
Available Game Licenses of Similar Games
Best FB Gaming Games for Your Portal!
Don't Miss Our Games Comparable to Facebook's Most-played Ones!
Take Me There!
Space Blast
Space Blast has remained one of the most popular Facebook Instant Games despite having hundreds of strong competitors in the tap-to-blast game genre.
The instructions are clear: Group blocks of the same color together, tap and blast them, collect points, and finish the level before you run out of moves.
Meanwhile, various items and boosters will help you advance through the levels more quickly and literally enjoy blasting the blocks.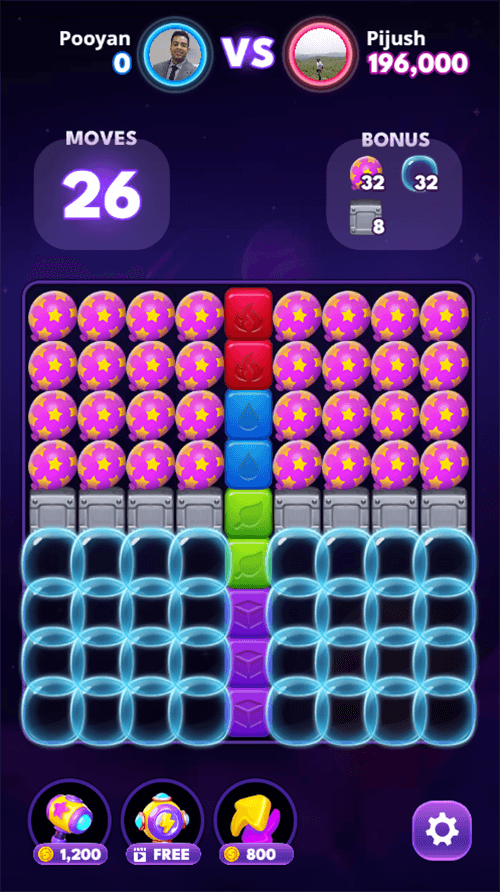 When searching for Space Blast on Google, you will find countless similar titles, and you may find more detailed versions of this game in the Android and iOS app stores. However, despite not having extra features, this game has overtaken the flagship of this genre on such a popular platform.
With 2.2 million players, space blast is the ninth most-played Facebook game.
A Beautiful Blasting Game
Here is what I noticed about this game:
Stunning Effects. The visual effects of this game are done perfectly. Blasting half of the colorful blocks using in-game boosters like a rocket, bomb, etc., are extremely fun!
Game Music. Although this tap-to-blast game is meant to be relaxing, it features a piece of fast-paced music that may not seem suitable to the game's gameplay. However, players will not reject the game because of its music. After all, it's all about blasting the blocks.
Limited Moves. Moves are limited. So, players should be mindful of their moves if they wish to beat their opponent's score.
Quick Visual Effects. There are no extra animations in this game. You can bombard the entire board using boosters quickly within a few seconds.
Available Game Licenses of Similar Games
Mini Golf
Mini Golf FRVR is among the most popular games on Facebook Instant Games, with 1.5 million players. Like other FRVR games, this one has good graphics and quality, and its puzzle-like gameplay adds to its appeal.
As with all golf games, the goal is to aim the ball and get it into the hole with the fewest strokes. However, this is easier said than done.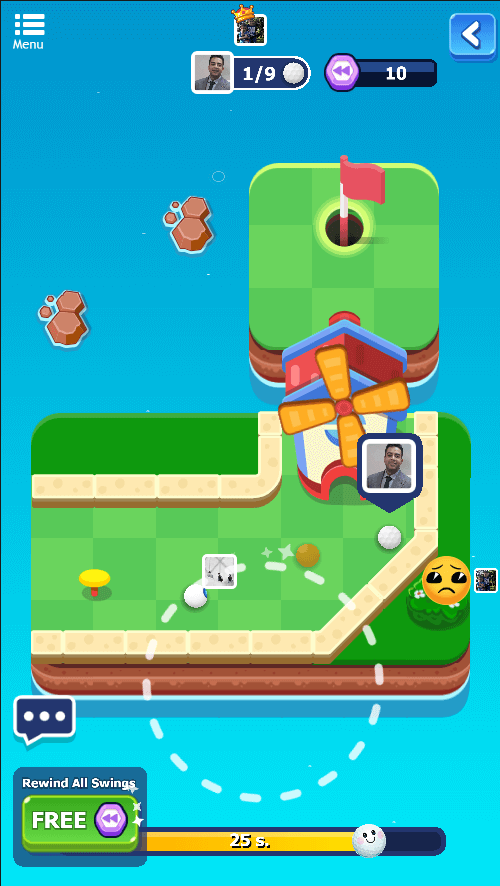 The feature that makes this game appealing is being in competitive multiplayer mode on Facebook. You're always competing with a user from another part of the world. The obstacles become more tricky, and if you miss, your number of hits may exceed the maximum allowed.
What Makes This Game So Appealing?
I played a mini-golf match with four random FB users, and here's what I liked about this game:
Joyful Upbeat Music. The first thing I noticed about this game was the music. The joyful, funky music fits the game so well.
Multiplayer Gameplay. Besides the tutorial, Multiplayer is the only mode to play this game on this platform. The game matches you with 4 other FB users, and you can participate in a competitive mini-golf match. The only thing that matters in the match is pocketing the ball with the fewest strokes.
Level Design. The level design has been done beautifully. They are challenging, and many obstacles affect your ball's direction. There's no way to win the game with just one shot, making it so competitive.
Good Graphics. The game has all the visuals, mechanics, and gameplay with fantasy-cartoony elements to be one of the most played games on Facebook Instant Games.
Available Game Licenses of Similar Games
Super Bowling 
The last game on this list is Super Bowling. It's not one of the 15 most popular Facebook Instant Games. Still, its graphics, mechanics, and gameplay are so good that it deserves to be on this list.
In this game, the goal is clear: throw the ball so that all the pins fall. Each bowler has two chances to do this before the other player takes their turn.
However, this game has no real-time competition; instead, you're competing against another player's score. Whoever has the highest score at the end of the match wins.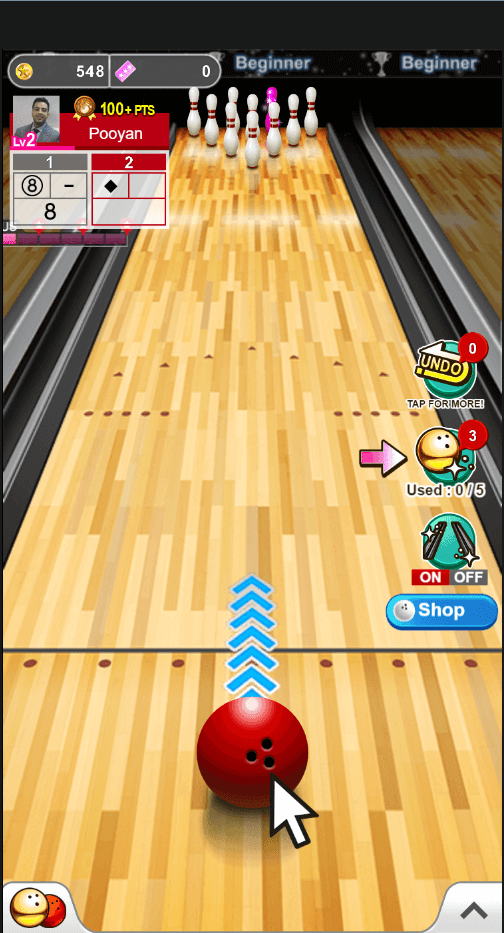 With 624000 players, Super Bowling is easily one of the most popular Facebook Instant Games.
What Makes This Game So Appealing?
Here are the major features I found interesting after playing a round of bowling:
Upbeat, Metal Music. In my opinion, using electric metal music for a bowling game is a bit too much. However, it is not unbearable and you can find a way to enjoy it.
Ability to Play With Friends. You can both play with a friend or a random FB user. The choice is yours. However, you're not competing in real-time. You'll be notified at the end of the match whether you won or lost, according to your scores.
Realistic Graphics. The graphical design of the game's elements, such as the ball, pins, and the lane is done realistically.
However, there's only one thing that can potentially disappoint the players: The poor animations of the ball hitting the pins. That could've been done better.
Available Game Licenses of Similar Games
Conclusion
Since Facebook has over 1 billion users from all over the world, it can be considered a massive market for HTML5 game portal managers to make a profit from it.
The games mentioned above are the most played games on this popular platform, along with their description, game features, and their identical games in other stores.
The aforementioned games have the highest popularity among FB users, and portal managers can benefit from taking note of their gameplay, mechanics, and in-game features for their own games.
If you are a publisher on this platform or wish to become one, pay special attention to the games mentioned in this article, as the gameplays described have a higher success rate on Facebook. On the other hand, before working in this industry, it is highly recommended to be familiar with the most popular and well-received gameplay.
We recommend taking a look at our most-played FB gaming games. Also, we're offering the top FB Instant Games Bundle which you can purchase and feature the same popular gameplay on your game portals.
Equip your portal with the best FB Gaming games!
Don't Miss Our Games Comparable to Facebook's Most-played Ones!
Take Me There!