6 Benefits that Make Using Games in IFE (In-flight Entertainment) Crucial
Feb 14 2023

6 Benefits that Make Using Games in IFE (In-flight Entertainment) Crucial
Feb 14 2023

What do you think about playing games while flying? How well are you familiar with web-based games or HTML5 games and their applicability in different industries, especially IFE SYS? And what characteristics make games one of the most effective and cost-efficient IFE service solutions?
In this article, I'll discuss why using web games for in-flight entertainment is important and the benefits. Whether you work as an IFE manager for an airline or own a business that offers IFE service to passengers and airlines, you can benefit from reading this article.
In the following, I will go over the benefits of having games in the IFE service and the qualities of web games that make them suitable for use in the IFE system. But before we do so, let's become acquainted with the significance of using web-based games.
The Importance of Integrating Games Into In-Flight Entertainment Systems (IFE)
Aside from the benefits and necessity of playing games for children and adults, I'd like to discuss why playing can become necessary inside the plane while flying!
When people are playing an engaging game, they are unaware of their surroundings and the events around them. That's a major benefit when you're on a flight. From the crew and management of the plane to the pilot, everyone wants passengers to remain seated until the end of the flight and to leave their seats at the destination without any issues. This, in my opinion, is what IFE is all about:
Managing and relieving passengers' stress during flight

The crew can handle and manage issues more easily and peacefully.

Control and entertain children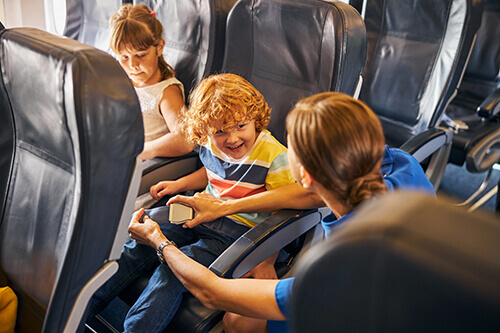 The main goal of appropriate IFE games is to reduce stress and divert passengers' attention away from airholes at the lowest reasonable cost! 
Also, the kids who don't know how to behave on a flight are more annoying than airholes. 
They make distracting noises and scenes in flight and keep getting in the way of flight attendants. 
As a result, it's easy to see why having games available on planes is so valuable.
Best HTML5 Games License Providers!
Are You Interested in Purchasing From Top Quality HTML5 Game License Providers? We Have the List of Them!
Visit!
Why Are Games Becoming Increasingly Popular as In-flight Entertainment?
They're Among the Best In-flight Entertainment Options
Implementing a portal with a collection of suitable games is not a difficult task, and passengers can easily access it as IFE through BYOD or an airplane seatback screen. 
That's especially the case in web-based games, which are highly adaptable and you can easily implement them on all devices. I will talk about this in more detail later.
Increase Brand Loyalty
All business managers, whether in marketing, sales, or production, understand that the durability and promotion of a business are directly related to customer brand loyalty and that it is necessary to obtain customer satisfaction to increase brand loyalty. 
Providing appropriate games in the form of IFE that can provide a good travel experience for the traveler has a significant impact on the customer's returnability, introducing you to other people and increasing the interaction of the passengers, which are characteristics of a loyal customer, which games can play a role in.
Help Spread Brand Awareness
Nowadays, passengers spend a lot of time with the IFE service. They may even spend the entire flight time playing games, watching movies, and listening to music without taking their eyes off the seatback screen or their own phones; this is a lot of time that should not be wasted!
This is the ideal time to let the audience recognize your brand's logo.
Monetization
Receiving money from passengers in exchange for providing entertainment or Wi-Fi services may be the first thought that comes to mind regarding generating income (to access games, etc.). 
However, this isn't the only instance of income generation through IFE. Including the game as an option in IFE services can entice more people to use the service. In general, you can increase revenue through the following methods:
Offering IFE Service for Free
If the IFE service(Wi-Fi, games, movies, music, etc.) is offered without charge on the flight, it may help to grow the audience (User Attraction), which increases revenue.
Premium Seats
If IFE is limited to premium seats on some airplanes, the availability of games may persuade passengers to purchase a more expensive premium ticket. 
Advertising
Advertising is one of this service's revenue sources! A significant portion of game portals' revenue comes from advertising, which is often their sole or primary source of income. This system can be used on the IFE service during the flight. For example, consider tourists who visit a country or city for leisure. Just think how much fun it would be to use games to promote hotels, restaurants, and tourist attractions. Obviously, to conduct targeted advertising, you need to know your target audience and the purpose of their trip.
Consider a set of games in which the user will see your logo by playing each one, which can be accompanied by a corporate slogan or a short but effective advertising message that increases the user's interaction with you. You can even take it a step further and reskin the game with a unique organizational theme and color scheme that screams brand!
Obviously, this work (incorporating the logo) may not be permitted and applicable to all products, such as movies. 
Still, in the case of games, game license providers typically present their products in the form of a white label, allowing you to incorporate the logo. 
Low Costs
Research indicates that the IFE service's highest cost is related to playing movies on airplanes.
Simpleflying.com reports that "Having a market worth $425 million in 2019, the aviation movie industry is a significant one. On average, they pay approximately $32,718 for an early release."
How much do you think it costs for a popular game? (Without taking into account the upfront costs of setting up a platform/s to offer games and other services…) Let's see what we can do with a third of this price in our store:
1. A license for ten premium games
2. License to publish ten best-selling games in two domains or projects.
3. License of eight most popular Facebook games for publication in two domains or projects.
Keep in mind that games offer a higher level of interaction than other forms of entertainment and that players have a large variety of games to choose from.
Relieving Long-Distance Travelers' Boredom and Impatience
You must now have a clearer understanding of why playing games on long journeys is so valuable! The absence of games from the in-flight entertainment list is especially noticeable on journeys lasting more than 10 hours.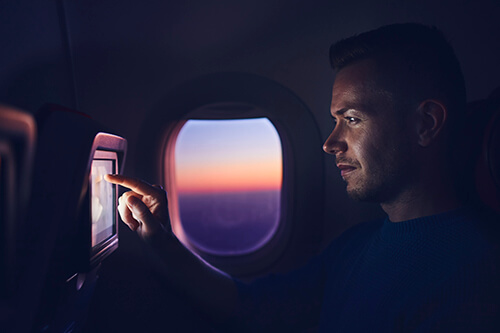 A platform with many different, fun, and well-known games can help the traveler pass the time on a long, monotonous flight.
A platform rich in diverse and appealing games with popular gameplay can keep you entertained for hours on a boring trip!
Why Web Games?
HTML5 games, also known as web games, have unique features that allow them to be used for various commercial and entertainment purposes. Below are the most significant reasons why web games are the best option for in-flight entertainment service:
Passengers Can Easily Play on Any Device
The player does not need a special device or operating system to play these games. These games can be easily implemented and played on the seatback screens of airplanes or passengers' mobile devices, regardless of the operating system (iOS, Android, etc.) they use.

No Need to Install
Unlike other apps, these games can be easily loaded on the desired device without needing installation. 
All you need is a web browser to play HTML5 games. That's all.
Tip: Depending on how the IFE service is offered, web games may not actually require Internet access. If the airplane has a local server, the games can be implanted on it and easily accessible to the passengers via the seatback screen or their personal devices!
Low Costs of Licensing 
I already mentioned how inexpensive it is to offer games through IFE compared to other services offered by the platform. 
However, web games are generally more affordable than those for Android and iOS. And because companies are using games for more and more things, more web game developers are being hired every day, which lowers the cost compared to other solutions.
No Large Game Files
Small size is a positive attribute of online games. This feature allows you to present numerous games to the audience simultaneously. 
The small size significantly impacts the speed of execution and access! Web-based mini-games typically range in size from 5 to 20 megabytes.
Excellent quality 
It is essential to understand that web games are on par with popular mobile games in graphic quality and execution; there are no deficiencies. 
You'll see this clearly once you compare the games you play on the web (link) and the games you have on your device.
With all these good qualities, web games are one of the best ways to reach different business objectives, including in-flight entertainment services.
Best HTML5 Games License Providers!
Are You Interested in Purchasing From Top Quality HTML5 Game License Providers? We Have the List of Them!
Visit!
How Many Options Are There for Passengers to Play HTML5 Games?
An App Installed on the User's Device
You can install it as an app on the passenger's device before the flight. During the flight, passengers can access various entertainment services such as movies, music, and games.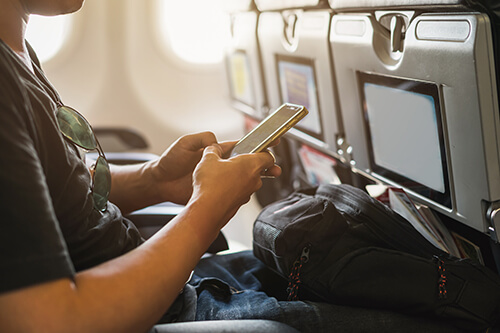 In this scenario, the airplane must have a Wi-Fi system so that passengers can utilize all the features and services of the app, and there is no restriction on the variety or quantity of games!
Setting Up a Local Server on the plane
Users can use their own devices to connect to the server and access an array of entertainment. 
In this case, you no longer need Wi-Fi and the Internet. Instead, passengers can connect their own devices (BYOD) to the local server and play HTML5 games, which don't require installation. Easy to use and implement.
Seatback Displays on Planes
The games, in this case, can be played offline (local server) or online, depending on whether the aircraft has internet service.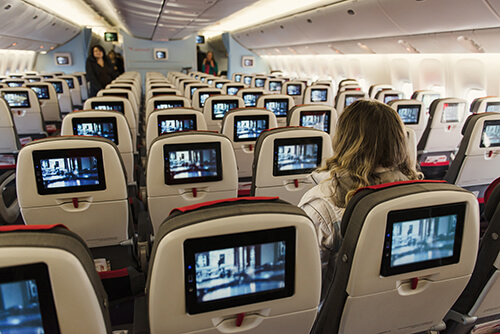 Tip: These displays are expensive to maintain and add to the aircraft's weight, so IFE will likely move toward putting them inside passengers' devices in the form of local apps or internet connections. There should be Wi-Fi inside the plane. However, in my opinion, nothing can replace a large screen with excellent resolution!
The Bottom Line
After reading this article, you should better understand the significance of online games and how to use them. If you do not have a game to present in your IFE system, you should implement the service of providing suitable games for your audience. 
If you have experience providing games and using this service, you should consider upgrading and updating the service. I suggest going after popular games.
In fact, people on the ground have access to a wide variety of trending games. This should also be the case while people are on a flight, and you should not miss all these opportunities in this industry.
In my opinion, you should learn more about the web games industry and its features and get to know your audience's interests and tastes. This will greatly assist you in offering top-notch entertainment services. 
The characteristics of the passengers on an airline that primarily transports tourists and families on vacation differ from those on an airline that mainly transports businessmen and women. 
Being aware of these differences can help in choosing the appropriate games.
I've done my best to relay everything on my mind and in my experience in the hopes that it will pave the way for further success for your business. Please let me know if there is anything I have misunderstood or need to explain further. You can get in touch with me via Skype or the form below.
Best HTML5 Games License Providers!
Are You Interested in Purchasing From Top Quality HTML5 Game License Providers? We Have the List of Them!
Visit!