White Label HTML5 Games: 5 Benefits for Businesses
Jun 06 2022

White Label HTML5 Games: 5 Benefits for Businesses
Jun 06 2022

What's the HTML5 game White Label Service, and how can it help your business profitability?
Need Consultation About White Label HTML5 Games Service?
In this guide, we'll know what's a white-label game, what're its advantages, and how is it developed and delivered to you.
What's A White Label HTML5 Game?
White labeling is one of the different services of HTML5 games. It happens when a product is sold under a brand or logo name while its producer is a third-party company. In other words, the retailer uses its name on the products to stand out, but the product producer is another entity.
HTML5 games are appropriate products for use on game portals, websites, or even business game campaigns to increase profit. Some companies require HTML5 games, but they do not have enough time to develop or customize the game, or they may not have the necessary skills because their concentration is on other processes.
White labelling is the best way for these companies to monetize through HTML5 games. They use HTML5 games that include their brand and logo, which another company develops. The developer can do any customizations and implementation, but the last name of the HTML5 game belongs to the business that uses the game.
Need to Consult With an Expert About White Label Service?
Just send a message to begin your White Label journey!
Contact Us
What are the Usages of White Labeled HTML5 Games?
The integrity of Games' Personality
If you manage an online game portal/P2E platform, one of your concerns may be that your games aren't presented to the players in an integrated format.
You select your desired games from several HTML5 game license providers, leading to differences in the personalities of each game based on the providers' tastes. This issue might be harmful to your brand and your players' loyalty.
By white-labeling HTML5 games, your games will have an almost integrated look.
Brand Awareness
Sometimes you need to shout out your brand but don't know where to begin. We think that web games are the best way to do it.
Everything in the games is under your control; they are interactive and highly engaging. When it comes to showing your values, products, or solutions, games do their job very well.
During the gameplay, people feel intimacy and connection with your brand and learn about your solutions (or anything else you need).
Prestige
Most of our customers just want the games without any changes except to have their brand image in the games. This way, they can gain their users' trust. Plus, they care about their prestige.
Show an Offer
People love to play, and during that, they are more willing to accept an offer from you. Companies often use this method to show their offer to a specific type of users and the result is amazing.
We helped a food company to have a white-labeled game that offered a new product to young people (over 100k users). We used the game in a web campaign in a short time and the result was amazing. On the game end page, 22.5% of the users said they loved the new product and wanted to try it.
Generate Leads
When you want to have a game with lead generation service, it's necessary to have the game white labeled.
Assume that your company runs a marketing campaign to get people's emails to give them an offer in the future. You suppose that you can raise the conversion to 10%. But have you ever thought about how much it can be better when you run a "Game Marketing Campaign"?
Without a white-labeled game running a game marketing campaign is meaningless.
What're the Advantages of White Label Games?
By white labeling HTML5 games, you won't spend much time on the process of producing the game and you can use the games that you want easily. When you use games with your brand on your website, you build confidence in your customers, and you can attract new users. Moreover, you can engage the audience by letting them play the games named on your brand.
It saves your time and money
Quick and easy to brand
It allows you to focus on your business
It gets you rid of the production process
Much better than building your product
Keeps your customers happier
Who Needs White-Labeled HTML5 Games?
Online Game Portals & P2E Platforms
Game portals/P2E platforms need many games to attract and keeping their players. The best way for them to prepare games in high volume is through white-labeled games. They have their games without struggling with the development process and costing much money.
Therefore, white-labeled games are a suitable choice for Game portal/P2E platform managers who care about their brand and are limited to their budget.
Businesses Looking for Marketing Campaigns
Marketing managers hate distraction factors. Their priority is to make users focus on the steps of the campaign that they have designed for them. Although using a game in a marketing campaign has its benefits, but by using games that are not white-labeled, you create a distraction factor, and users don't do the thing that you want!
White Label Service at DoonDookStudio
DoonDookStudio is an HTML5 game development studio with more than 100 HTML5 games in the store. For all the games, white labeling is possible according to the customer's requirements.
High-quality games developed by DoonDookStudio can improve your monetizing methods. The professional team of DoonDookStudio is always ready to develop, reskin or customize HTML5 games for companies that want to use their brand or logo on the games to make them special.
Our Customers
Marketing managers hate distraction factors. Their priority is to make users focus on the steps of the campaign that they have designed for them.
Steps
If you're interested in getting our white-label HTML5 games, you need to follow this process: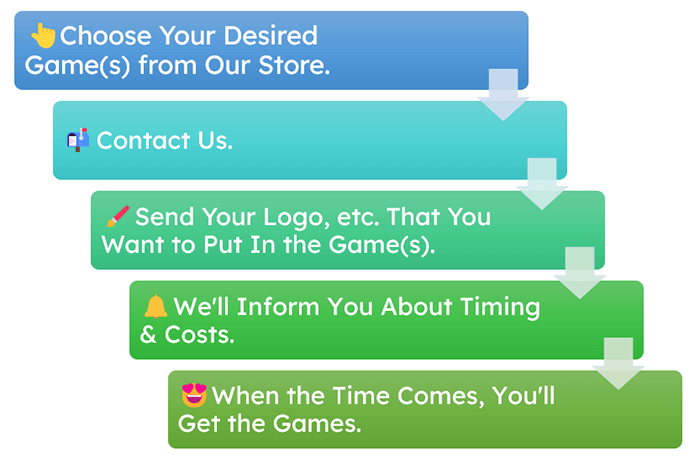 Choose your desired game(s) from DoonDookStudio's store.
Send your logo, banners, etc. that you want to put in the games(s).
We'll inform you about the timing & costs.
When the time comes, you'll get the games.
Pricing
The price of the White Label service depends on how many games you want in a single order and the quality of the games. By the way, if you're to be informed about this service pricing, just contact us. We'll reply to you within a day.
Need to Consult With an Expert About White Label Service?
Just send a message to begin your White Label journey!
Contact Us
FAQ
How many games are available for white labeling?
100+ games are ready for white labeling. You can see our HTML5 games catalogue in DoonDookStudio Store.
Why should I have white-label games?
You will have a variety of choices of games to attract new users without any additional effort. DoonDookStudio will add your logo/brand to the games you want at a suitable price.
What advantages does DoonDookStudio provide to white-label games?
DoonDookStudio has developed 100+ HTML5 games, and all are available for white labeling. Our games in different genres are suitable according to your audience's taste. In addition, our games come at fully competitive prices.
Do I own the Intellectual property of the white-labeled games that I ordered?
The intellectual property of the games belongs to DoonDookStudio even after using your brand/logo in the games. You can read about it on the License page.
What will I receive after I request a white-label game?
You will receive the game(s) with source code files. Also, we implement your logo and brand name on them.
Can You Export HTML5 Games on Android/iOS?
Yes. You can export all of our games to Android/ iOS mobile operating systems. See the Mobile Export page for more info
What if I need customizations with my own brand/logo?
Our expert team is able to do it. You can see the Customize page for more info or contact us via the following form.