A Complete Guide to Prepare HTML5 Games for Portals
Feb 19 2023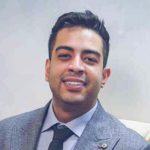 A Complete Guide to Prepare HTML5 Games for Portals
Feb 19 2023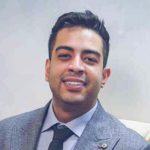 Preparing HTML5 games for your gaming portal or non-gaming product can be a difficult task. It can be a bit of a challenge for portal administrators, particularly for those who are newcomers to this industry.
Learn About 4 Critical Tips Before Buying Any HTML5 Game!
Individuals new to this industry may need help finding top-rating games for their portal, guidance on how to check their quality, what services are available for these games, what are their buying options or even be aware of the legal implications before purchasing it. If you also fall into this category, there is no need to fret.
In this article, I'll detail these topics so you can learn how to prepare a game for your game portal.
First Step, Finding the License Providers
Preparing a game for your portal is a process; as with all processes, there is a starting point. As mentioned before, there aren't many reliable HTML5 game license providers. Due to their scarcity, choosing the right provider can be crucial. So, the first step for you is to look for businesses that offer HTML5 game licenses. Of course, I am referring to games developed with great care and attention to detail.
Otherwise, a simple search will reveal many amateur developers whose games have little to offer in terms of quality or attraction. I do not recommend this method because it can harm the quality and credibility of your portal.
Fortunately, there are not many top-quality license providers in the HTML5 games industry. Below, I have listed some of these experienced providers who offer quality service and support:
DoonDookStudio
Founded in 2018, DoonDookStudio has become a top-tier HTML5 game license provider following the market trend. DoonDookStudio currently offers more than 120 high-quality games, as well as various services and purchasing options.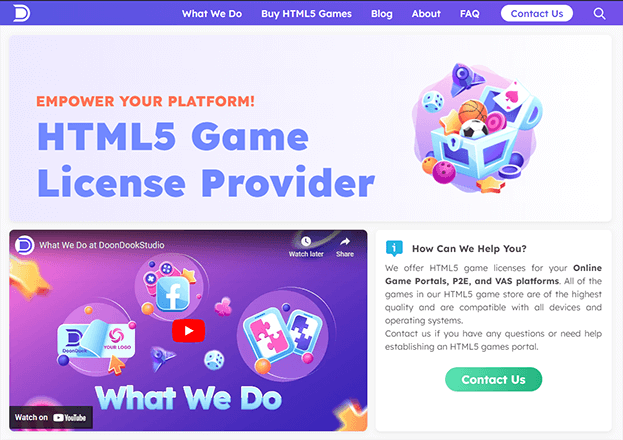 DoonDookStudio provides premium HTML5 games, services, and licenses to online game portals, P2E platforms, non-gaming platforms (e.g. popular apps and In-flight Entertainment Systems), and VASs in order to increase user attraction and engagement.
Striking a balance between the pricing and the quality is one of doondookStudio's unique features; meaning that all this provider's products are priced as per the product's quality.
DoonDookStudio's main features are as follows:
HQ HTML5 Games: DoonDookStudio (currently) features more than 120 high-quality games for both gaming and non-gaming portals and platforms.
Game Design for Game Portals and Non-gaming Portals: DoonDookStudio provides HTML5 games of the highest quality, for both game portals and non-gaming portals (like IFE).
Free Support: To provide its customers with the assurance that the games are reliable and of high quality, DDS provides 6 months of free support for all of its games.
Various HTML5 Game Services: DDS provides white-label, reskin, FB Instant games, localization, and API/SDK implementation services.
Various Buying Options: DDS offers its customers a variety of purchasing options, including Single Purchases, Bundles, and Bulk Purchases.
Balance Between Quality and Price: All DoonDookStudio's games are priced fairly according to their quality, design sophistication, and usage.
Educational Blog: DoonDookStudio features an extensive blog about the latest news and new capabilities of HTML5 games.
Never Buy an HTML5 Game Without Knowing Its Legal Implications First
Ignoring the legal issues of HTML5 games can result in significant financial, legal, and reputational damage to your business. Click to learn more about the legal requirements for HTML5 games.
Download PDF
Famobi
Launched in 2012, Famobi is the second-largest HTML5 game license store after MarketJS and offers more than 200 different games.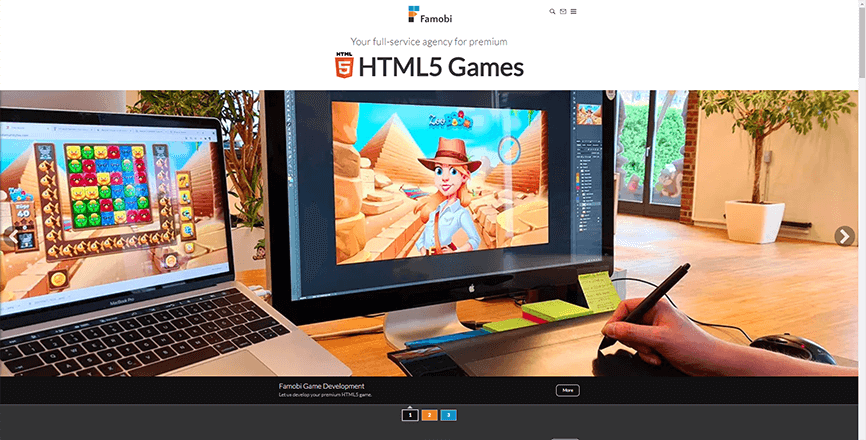 Thanks to well-known customers like McDonald's and Disney, its store is becoming a very reliable option for purchasing HTML5 game services. Famobi also offers full service for cross-platform games.
Below are some of Famobi's top features:
Partnership with Well-known Brands: Famobi works with world-famous brands like Google, Amazon, Disney, Deutsche Bahn, Gruner + Jahr, Telenor, etc.
High-quality Games: Famobi games are of the highest quality.
Free Link: Famobi offers a free game link to publishers who want to show Famobi's games on their portal and are willing to give all the profit to Famobi.
Providing HTML5 Games for Various Commercial Purposes: Famobi develops games to use in public transportation, digital signage, in-flight entertainment, etc.
Various HTML5 Game Services: Famobi offers Reskin service for branded games or advergames for marketing campaigns.
MarketJS
MarketJS is a B2B platform for HTML5 game licensing. It has been serving clients since 2012. Although it provides a vast selection of games, their quality is inferior to that of doondookstudio and Famobi.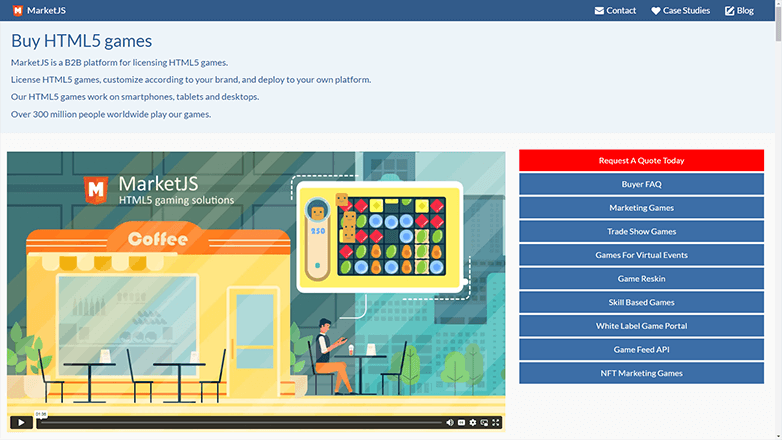 MarketJS is an online HTML5 game store that also designs and develops bespoke games for brands, which include advergames, news games, and social-impact games.
Some of MarketJS's key features are as follows:
Large Collection of Games: They offer a huge collection of games for other companies and brands to license HTML5 games
Playable Ads: They build and design playable ads for app and gaming companies
Bespoke Games for Brands: MarketJS designs and develops bespoke games for brands, such as advergames, news games, and social impact games.
Extensive HTML5 Game Services: MarketJS provides White label, reskin, and many other HTML5 services.
Mid-quality Games: Although MarketJS has a large collection of games, its games aren't among the highest-quality ones.
CodeCanyon
CodeCanyon is an online marketplace where developers can sell and buy scripts and components for various languages and platforms.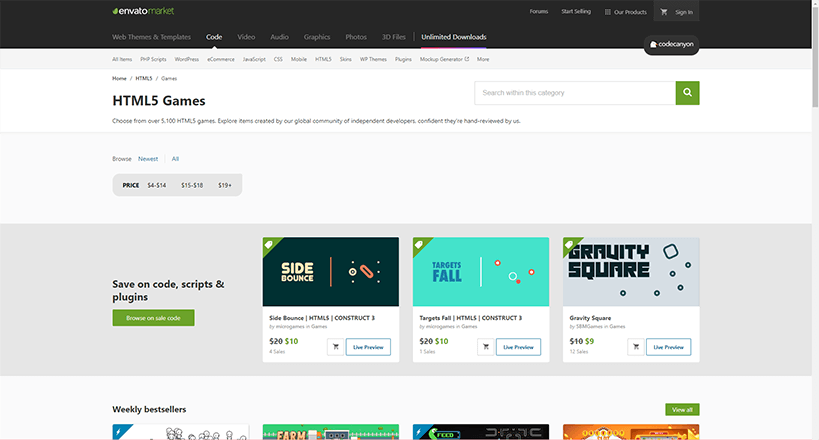 The following are CodeCanyon's top features:
Different Prices, Varying Qualities: As previously noted, CodeCanyon is a marketplace for digital assets. It offers a vast selection of HTML5 games with no set pricing range. The reason behind this is that different developers determine differing pricing.
Huge Selection of Games: CodeCanyon features over 5100 HTML5 games made by their international community of independent developers. As CodeCanyon states, reviews all the submitted games by its staff.
Testing Out the Games
Knowing the license providers is not enough. After visiting the website and reviewing the histories of each of these providers, it is time to evaluate their games.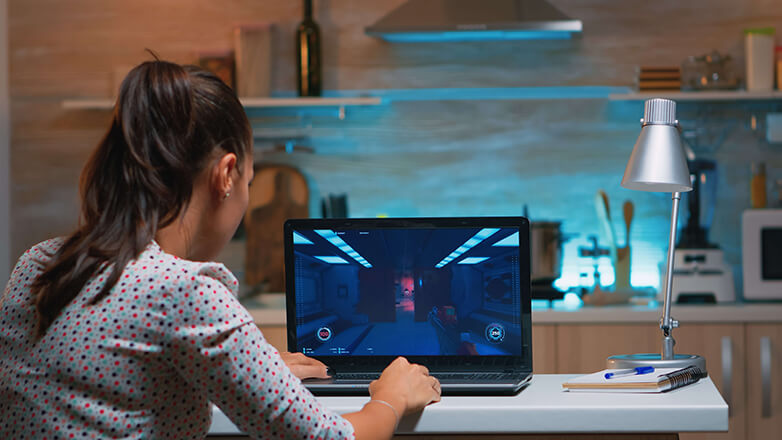 On the provider's website, you can choose any game you desire or deem necessary for your game portal and then evaluate their quality by running and playing them (which includes graphics, music, gameplay, etc.).
In general, these are what you should consider while testing the games:
Does the user receive adequate training tips at the beginning of the game?
Are the early levels easier than the subsequent ones?
Does the difficulty of the game increase as the user becomes more skilled?
Does the user receive guides or prizes when needed?
What Are the Features of Profitable HTML5 Games?
Below are the features you should be looking for when testing the games:
Built by Popular and New Technologies: Using new technology equals hiring technical experts more easily, reduced costs, and plenty of popular game engines and frameworks.

Fast & Flawless Run: It means a game runs smoothly without any technical issues. Its indicators are the responsiveness and polish of the games.

Low Size:  Since page loading speed is crucial, you should consider the game's file size when selecting a game so that your website's loading speed is not affected.

Eye-catching Graphics: The graphical quality of a game conveys one message: This game is worth your time. Graphical quality greatly impacts users' desire to play the games.

Appealing Gameplay:  Try out the game and make sure that its gameplay is fun enough for your audience.

Quality Store: In every game, this item is an optional one, and its absence doesn't harm the game, but if there is a store, users can gather coins or scores to customize the game setting, use various game items, etc. The store persuades users to continue playing and makes them experience less monotony in the game.
Game Balance:

Balance refers to the quality of level designing and its gradual difficulty. When testing, you should keep these in mind:

Does the player receive enough tutorials?

Does level difficulty increase as the player becomes more skilled?
However, the list of pre-purchase considerations does not end with these. To learn more about the important features to look for when purchasing a game, I suggest you read the '7 tips for buying profitable games' article.
Never Buy an HTML5 Game Without Knowing Its Legal Implications First
Ignoring the legal issues of HTML5 games can result in significant financial, legal, and reputational damage to your business. Click to learn more about the legal requirements for HTML5 games.
Download PDF
What Are HTML5 Game Services?
Depending on business objectives and in accordance with the technological structure, game publishers require various services on their purchased HTML5 games. License providers offer these services alongside their games. I'll explain each of these services briefly below:
White Label Service
For game portal managers, white labeling is one of the most essential services for businesses to monetize through HTML5 games. They use HTML5 games that feature their brand and logo, which another party has developed. The developer can do any customization and implementation the clients prefer. Still, the final product's name of the HTML5 game belongs to the business that purchases the game.
Assume you want to publish your desired game under your brand name, emblem, and logo, but the game's producer is another entity. To accomplish this, you'll need the white label service. The white-label service allows you to present your desired game to your players and customers under your company's brand.
In other words, the retailer uses its name on the products to stand out, but the product's producer is another entity.
Game Reskin Service
You may need a unique game for your online game portal, a short-term campaign, or FB instant games, or you may prefer, for commercial reasons, that the game be prepared with a unique theme and visual elements for your business brand. For instance, you might prefer to switch the game's theme from the desert to the beach. This is where reskin service can help.
Reskin means modifying the skin or shell. It entails making several changes to the game's appearance, but with restrictions and within a specific framework.
What Does Reskin Service Include?
Theme and Graphics: It entails redesigning the game with the theme and visuals chosen by the customers. Publishers are typically interested in featuring games that cater to the preferences of their target audience. It can be the theme of a particular season or even a special occasion.
Sound and Music: This service involves changing the audio and soundtrack of the game to fit the experience. It ensures that the user receives a genuine sense of the ambiance and experience of the game.
Minor Gameplay Changes: Sometimes a client needs minor adjustments to the game's rules or gameplay or even a new option to be introduced to the game's features. Of course, these modifications don't change the game's rules, and the game's source doesn't undergo significant changes.
It's also worth mentioning that since developing an exclusive game from scratch is very costly (around  $7000 to $20,000 each), reskin service is a cost-effective solution for obtaining the game that portal managers desire.
Game Localization Service
Game localization is the process of converting the existing content to a new target locale, both linguistically and culturally.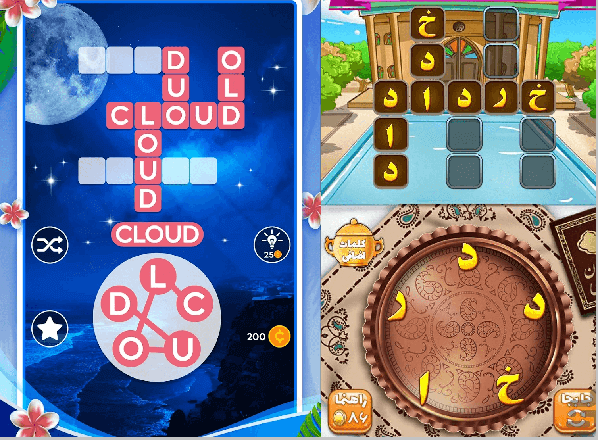 For the benefit of your international target audience and to enter other HTML5 game markets, you as a portal manager might occasionally want to optimize a particular game for a specific geographic region with the local language, culture, music, and other elements of that region. That's where the game localization service comes in handy.
Game localization has numerous benefits, which among them is the cultivation of a stronger sense of empathy with players, which can increase user engagement, loyalty, and sharing rate.
What Are the Essential Aspects of Video Game Localization?
Visual & Graphical Elements: Adapting all visual elements, characters, etc. to the target region's culture
Textual Elements: Idioms, dialogue, subtitles, guides, instructions, and tutorials are all translated so that they convey the same message in both languages.
Audio Elements: It includes modifying the game's soundtrack, music, sound effects, and voice-overs to the target region's preferences. For example, changing the game's audio to fit the target audience's cultural standards.
Regional Format: It entails translating regional formats such as date, time, metrics, and so on. For example, change the metric Kilometer per hour (kmph) to Mile per hour (mph).
Implementing API/SDK
It's common for customers to request technical adjustments for the games they purchase. They often ask for in-game technical modifications like implementing an API, SDK, leaderboard, etc. Generally speaking, API/SDK implementation service establishes a connection between the game and the client's server.
Several communication models between the game and the server are as follows:
In the game, once the player obtains the score, the game sends it to the server so it can be stored in the client's database. At the end of the game, the game requests that the server send the information of the top ten players with the highest scores to the game so it can be displayed.
Suppose in a multiplayer board game, players can ask the server for the rules of that game (for example, the number of players eligible to play).
Imagine a client has an app with several games. When the player loses after playing for a while, the game notifies the server that the game is over and that it is time to quit the game and return to the home page.
Depending on the technology you use, the API/SDK implementation service will use various techniques and technologies to communicate with the server and the game. You can implement some of these technologies, such as AJAX, which offers non-persistent communication, or Websocket, which offers persistent communication, depending on your requirements.
FB Instant Games
Facebook Instant Games is a relatively new gaming platform that may be used on computers and mobile devices running Android and iOS.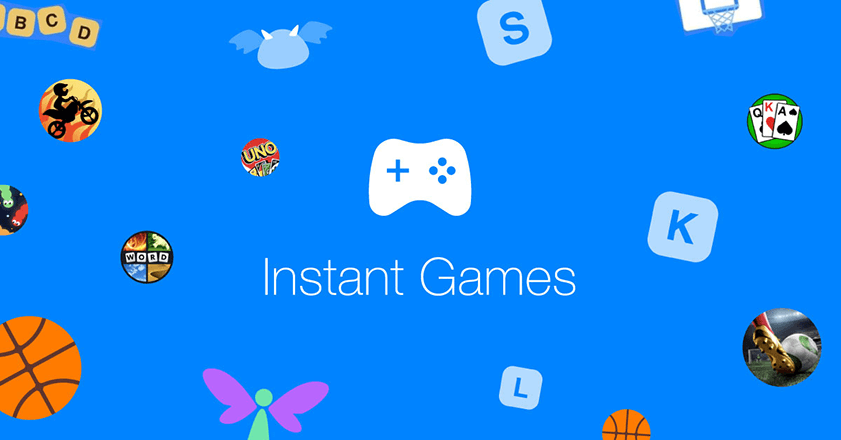 It is supported through the applications that Facebook offers, such as Messenger.
Instant Games are games that may be played directly in a user's Facebook News Feed, allowing gamers and their friends to immediately begin the action. Games need no download time. All you have to do is start playing.
With FB Instant Games service, the customer's preferred game can be published on the FB Gaming platform. The goal of doing this is to publish the game on one of the most populous social media platforms in order to reach a huge audience and increase profits.
What Are the Benefits of Using This Service?
The Facebook User Base is Enormous: There are more than 3 billion users on this platform, and millions of them play FB instant games daily.
Easy Game Sharing Will Help Your Game Grow: Using this feature, Facebook users can share your game on their timelines or through Facebook messenger with friends, acquaintances, and coworkers.
Having the Option to Compete with Other Users: Users can engage in real-time or score-based competitions on this social platform.
Bringing Back the Players Through Notifications: This feature enables the publisher to entice users to come back and play more of their game by sending Facebook notifications.
Facebook Click-To-Play Ads: Even though Facebook allowed easy game publication inside its vast community, it didn't stop there and provided different groups of users with C2P advertisements. Which is a brilliant encouragement to attract users.
Ads
Advertising is one way HTML5 games earn revenue, and providers offer this service based on your preferences. With the large number of businesses that offer gaming advertisements, it is impossible to list all of their products and advertising strategies here; however, the following models are often used:
Banner Ads: the fixed or dynamic display of a banner ad at the top or bottom of the screen
Interstitial Ads: A full-screen ad usually displayed between game sessions (like at the end of a level), which can be an image or a video.
Rewarded Ads: an ad (usually a video) that is displayed to the user in exchange for a reward. After the complete presentation, the user receives a reward.
As mentioned, many businesses offer advertising for games, but the most famous of these providers include:
Admob: 

It's an ad service from Google used for mobile applications and games.

Adsense: 

It's an advertising service from Google that is usually used for websites. However, it can also be implemented directly in the games.
You may have a direct relationship with advertising providers and require the advertising service to be used in games through your API (as your interface in the game). In that case, you can ask the license provider (if they do that) to do the job for you.
Purchasing Options
Once you've decided on the game and the changes you want to make, it's time to look into your purchasing options. Generally, HTML5 game license providers often sell game licenses in one of three ways:
Single Purchase: As the title suggests, a single purchase means paying the full price for a single game, typically without a discount.
Bundle Purchase: Sometimes, providers put several games with common features (top Facebook games, best-selling games of the year, etc.) as a bundle for customers. From the customer's point of view, this is the best and most cost-effective purchase method.
Bulk Purchase: Bulk order means that a customer gets a bigger discount for the more games he buys. After purchasing in bulk, this option is also preferable and more economical than a single purchase.
Legal Tips
You might believe purchasing a game with appealing gameplay and visuals is sufficient for obtaining a game license. However, the truth is that as a publisher or manager of an HTML5 game portal, you should be aware of a number of legal issues before purchasing the game.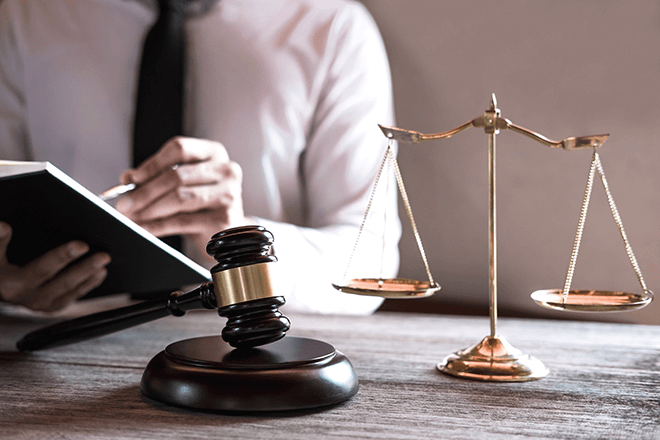 If you don't, you might be unable to fix them after purchase, which could cause serious financial, legal, and reputational damage to your business.
In any case, you should pay close attention to the credentials of the provider, the rights to use the game license, the contents of the delivered file, support, and copyright regulations. Therefore, I recommend reading about HTML5 games' legal implications before purchasing any HTML5 game.
Before Purchasing a Game, Get to Know HTML5 Games Legal Implications
Ignoring the legal issues of HTML5 games can result in significant financial, legal, and reputational damage to your business. Click to learn more about the legal requirements for HTML5 games.
Download PDF
Conclusion
For those who manage a game portal, the game is the most crucial product for customers. Paying attention to the quality of the games, the provider you buy from, the purchase options, and related legal aspects will be crucial for your business.
Whether you're in charge of a gaming portal or a non-gaming platform, choosing and preparing a game might be a huge headache. Before purchasing a game, you should thoroughly examine your audience, reputable providers, visual, audio, technical elements, and graphical features for every game.
There aren't many well-known and trustworthy license providers in this industry. Consequently, the most crucial decision to make before a purchase can be choosing a trustworthy provider. The game designs, quality, and services offered by each provider included in this article vary in some ways.
However, most of them offer essential services for HTML5 games, such as white label, reskin, localization, and Facebook instant games. Also, before finalizing the purchase, you should be aware of several legal issues that, if you don't follow, you might severely harm your business's finances, legal standing, and reputation.