How to Make A 50M+ Downloads Game in 17 Minutes + Source Code
Hi guys,
Hope you're doing well!
Today I'm here with a moneymaker game. The game "Ball Sort Puzzle" that we want to make its mechanics together is one of the most downloaded games in recent years on Google Play and the App Store. Moreover, according to the research that one of the teams we communicate for publishing games has done, this game still has great popularity. It can most probably influence the market all around the world with a few changes. The reasons for this game's popularity can be the attractive puzzle genre it has and its use in real life and the satisfaction it brings. 
This game has many samples in the stores, but due to its large number of fans, you can attract new users to your own game by learning its mechanics and a little thinking for adding an interesting idea. Also, for people who work in the same field as our team, DoonDookStudio, and want to sell the game license to famous publishers, I should say that considering good statistics of download and making income for this game, you can easily sell it.
But if you're searching for a more mature sample of this game that is combined with another charming idea, you can go to our website and visit the game "Sand Sort Puzzle" and purchase this HTML5 Game License source code at a proper price. This game is exclusively designed by the DoonDookStudio company. The idea of pouring sand into glasses is used and implementing this in Construct3 is professional work. You can unveil the secrets of making this game for yourself by buying this game. Also, this game has an appealing shop that your user can change the background of the game and the pots the sand is poured in. Moreover, there are other features like unlimited levels, undo and AdMob ads that let the user return to the game after losing and finish the level.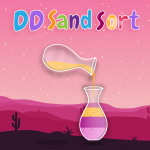 DD Sand Sort Puzzle – HTML5 Puzzle Game
So let's get back to the tutorial! Besides the things I said before, you will learn more abilities in the Construct 3 game engine by this tutorial including:
– Checking level complete (the easy way)
– Using "Pick highest/lowest"
– Using Foreach ordered
– Tweens
Send Your Email, Get Source Code
For downloading the Source Code of this tutorial, just type your email and send that to get an email from us…

Be the first one who gets the information about our New Products and Best Offers: