Top 4 HTML5 Games License Providers [Comparison Table]
Having trouble getting a game for your website or ad campaign?
Don't know where to get an HTML5 game?
Don't know who're the best HTML5 games license providers?
Or how many stores have you checked but are still confused?
Usually, to buy and obtain a game license, we face challenges such as reasonable price, good quality, profitability, and access to different categories and genres, as well as a large number of games.
The world of HTML5 games is less well known than mobile and console games, especially when you are looking for such games. Not knowing enough about the best options on the market can confuse you.
So in this article, we try to introduce you to some of the largest and most reputable HTML5 game license providers.
Come with us to know the top 4 HTML5 games license providers.
Best HTML5 Games License Providers
1) DoonDookStudio: Suitable Quality, Suitable Price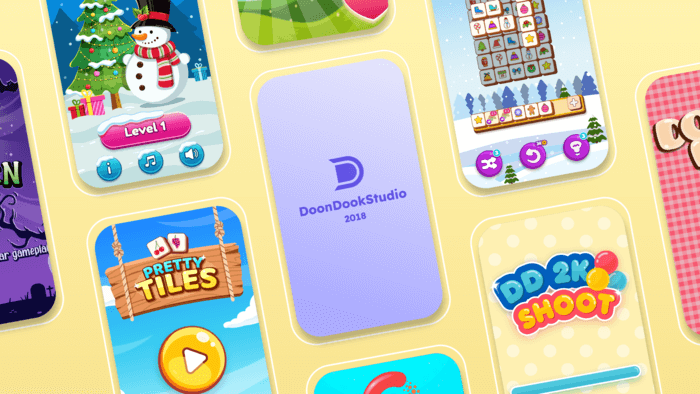 With more than 100 games in different genres, they started their work in 2018.
Although DoonDookStudio was the youngest option among other rivals, by providing the game with optimal quality and reasonable price, as well as broad and fast support, it has been able to put itself in these names.
DoonDookStudio customers include Famobi, Azerion, and Y8.
Price
The price of DoonDookStudio games is very good due to their good quality in competition with other rivals. Usually, the games in this store are delivered for between $199 and $1199.
Games Bundle
An awesome offer for people who plan to buy a lot of games at a very low price which is constantly published by DoonDookStudio. These bundles reduce the final price for the user by up to 90%. The main advantage of these bundles is saving time and money.


More than 100 High-Quality HTML5 Games
All the games in the DoonDookStudio store are suitable for Online Game Portals & P2E platforms.
License
The most complete license among rivals is the extended license of DoonDookStudio, which provides the source code to the user, allows the game to be published in 1 domain/app, and 6 months of free support.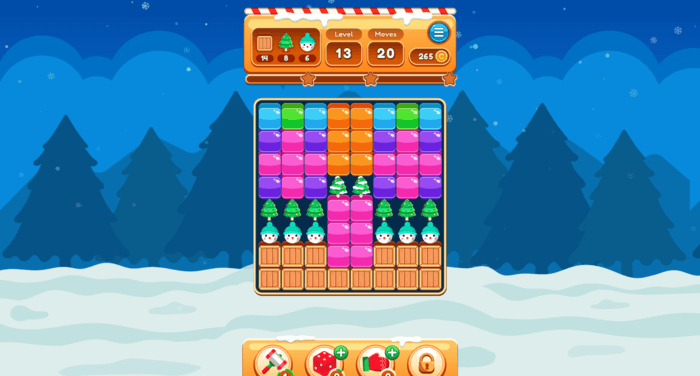 Support
All products of DoonDookStudio have 6 months of free support, which can be increased at the customer's request. This rate is reduced for the bundles to one month. Game support is provided by this team in a very short time after the customer's requests.
2) Buy.html5games: #1 of Quality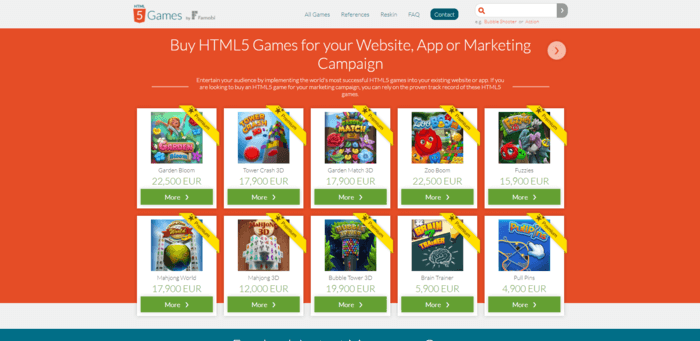 The Buy.html5games.com website is one of the subsets of the Famobi company, the largest publisher and developer of HTML5 games.
Launched in 2014, this website has more than 200 different games and is the largest HTML5 game license store after MarketJS.
Famous customers such as McDonald's and Disney have made this store a very reliable option for receiving HTML5 game services.
Also, if you need additional services like reskinning, you should purchase an Extended license from this store.
Quality
It can be said that the Buy.html5games.com website has the highest game quality among the available options This has made this website a good option for companies and individuals who, regardless of the price and cost of buying the game, are looking for a very high-level game in terms of gameplay, graphics and game story.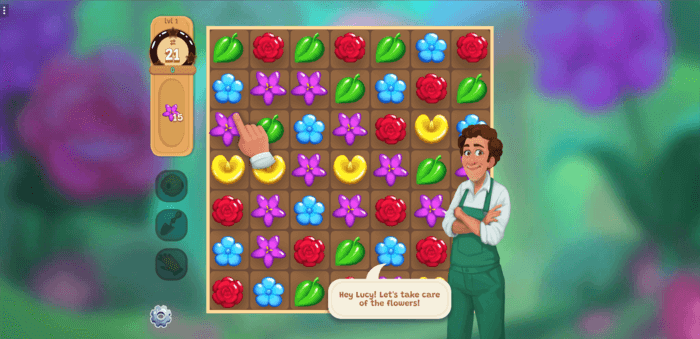 Very High Price
Garden Bloom game in very good quality with a price of at least €22.500! Are you willing to pay for it?
This is just the price of buying a game license and if you want to make changes to the game to suit your goals, maybe you should spend a lot more than that.
Unfortunately, this store has not published an article about the cost of its services. But don't worry, there are a lot of games with acceptable quality in this store that are sold at prices below €1000, which are generally their old games.
License
Buy.html5games.com uses three licenses to publish on different platforms. Based on the FAQ page of this website, you can get a Non-exclusive service to publish a game on your website/app.
Also, to publish Facebook Instant Games, Google Play, or the App Store, you need to get an exclusive license, which can cost up to €279,000!
Fortunately, the licenses of this store include the source code of the game and putting your own brand or SDK in the game.
Unlike MarketJS, Buy.html5games.com does not offer a revenue share license. Also, if you need additional services such as Reskin, you must purchase the Extended license of this store.
Support
On the Buy.html5games.com website, there is no explanation for the time and service that includes support.
Free Link Without License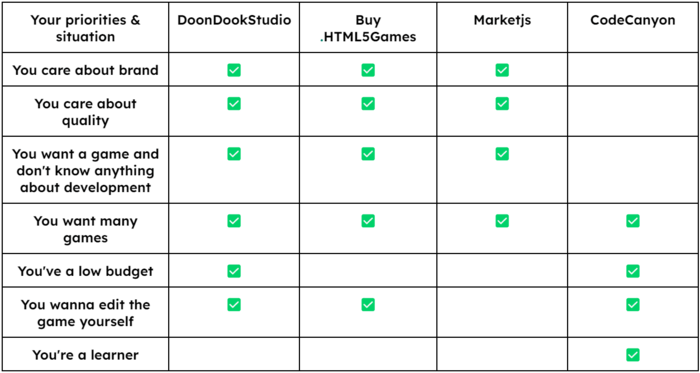 This website also provides you with a link to each game for free use without a license, and you can put the games on your website. But note that you don't have the option to change the game code, so you can't add your SDK in the game to display ads or analytics, etc.
3) MarketJS: Various Games & Services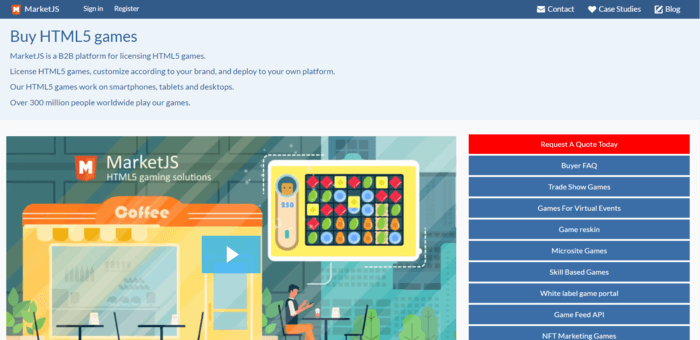 With over 500 games and 8 mini-games, with about 8 new products being added each month, MarketJS is one of the most up-to-date and largest markets for buying HTML5 game licenses.
The company, which has been operating since 2011, has been able to attract large customers by offering quality games.
MarketJS can be considered one of the oldest providers of HTML5 game licenses.
Product Variation
The high variety of games and their genre and technology make it possible for almost anyone to find the game they want in this store.
Price
MarketJS games are mostly offered in the price range of $699 to $2999 and it seems a bit expensive, but you can get a good discount of up to 80% by buying several games together. Unfortunately, this site does not provide much explanation on how to apply this discount and how much you can get with how much purchase. You can contact them to find out.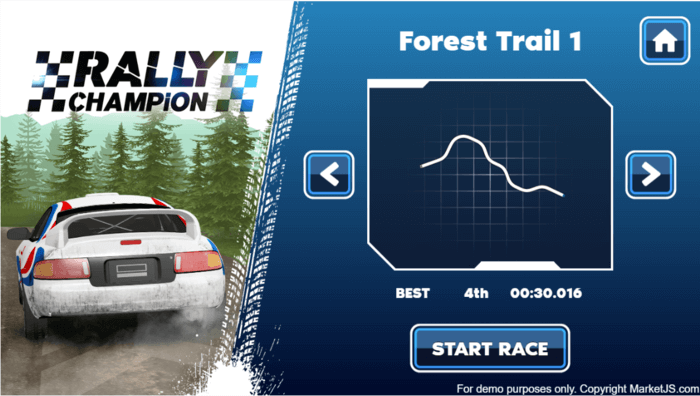 License
It can be said that one of the weaknesses of MarketJS is that its license is very limited and can only be usable in one project(app or domain); no customization is done even in a small way and all this is in the case that you won't have the game source code, and most likely you will only have the HTML5 code of the game, which is completely obfuscated.
Services
With the number of games, MarketJS is a leader in providing a variety of services to its customers, and with about 17 types of services, has the most diverse HTML5 game services.
Game Feed API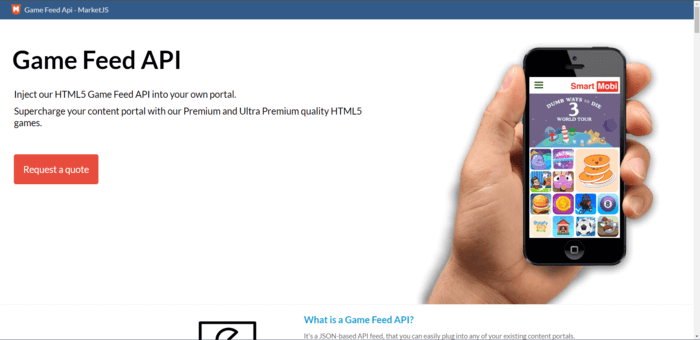 If you are the owner or admin of a website that has millions of monthly visitors, you can use this MarketJS service. Using the Game Feed API, you can add the company's games to your website for a monthly fee or as a Revenue Share partnership.
Support
There was no explanation for the duration and supported services on the MarketJS website.
4) CodeCanyon: Beginner to Expert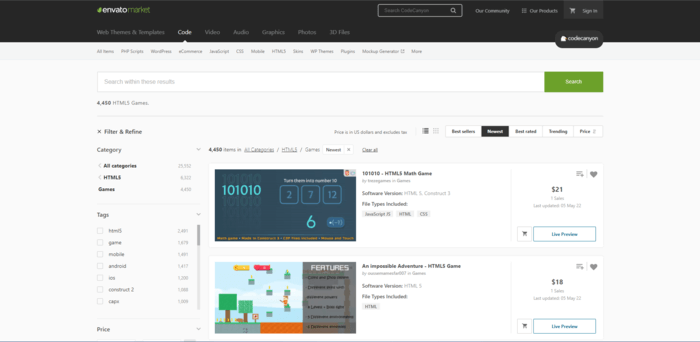 A very large store consisting of individuals and teams from beginners to professionals who are constantly building and offering their own software products, including HTML5 games.
the number of games uploaded to this store reaches 4450 at the time of writing this article, and most of them are low-level games or semi-ready templates.
Products Variation
Due to the fact that different people and teams are present in CodeCanyon, Certainly, the variety of this store is much more than other options.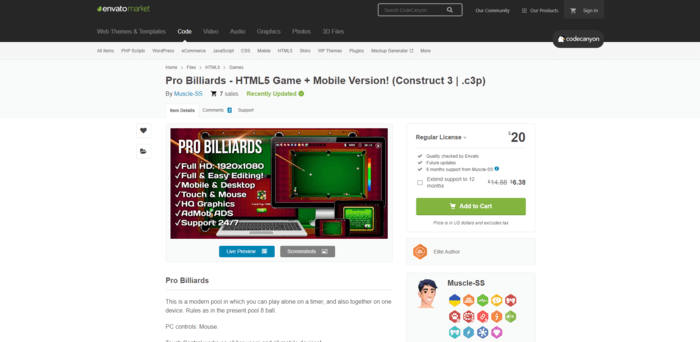 Price
The presence of beginners in this market has caused the prices in this store to be so low that you can buy a game for only $4! ($1 in a bundle!) But as the quality of the game increases, prices may eventually rise to $200.
License
All products in this store use the CodeCanyon standard license as follows:

Support
Depending on the choice of the developer, CodeCanyon products can have support from 0 to 6 months, which can be selected for up to 12 months by paying an additional amount. But you should not expect professional support for any product. Usually, beginners who may stop working in this store after a short time have no obligation to support their products. In general, remember that you generally get support from one person, not a company or team.
Note!
My suggestion is that if you want to buy products from this store, be sure to look for experienced and professional people who receive good points from their customers. These people offer both more reliable products and faster and more complete support services.
Which Provider Is the Best for You?
It's very difficult for me to introduce you to a great option that suits you perfectly. Of course, depending on the brand, needs, budget, and personality of your business, any of the options may be right for you, but if I help you a little, the following comparison table may come in handy: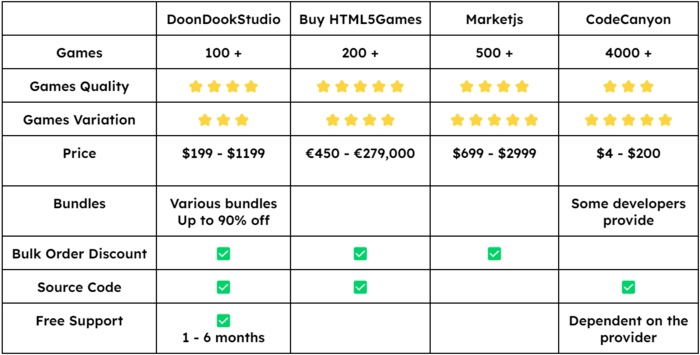 Portals & P2E Platforms
You need a lot of good quality games and this can take a lot of your time along with the high cost for you. A very cost-effective solution for you can be to buy high-quality bundles. I recommend DoonDookStudio and some CodeCanyon developers like "Muscle-SS" and "Regarding" that can meet your needs for a long time.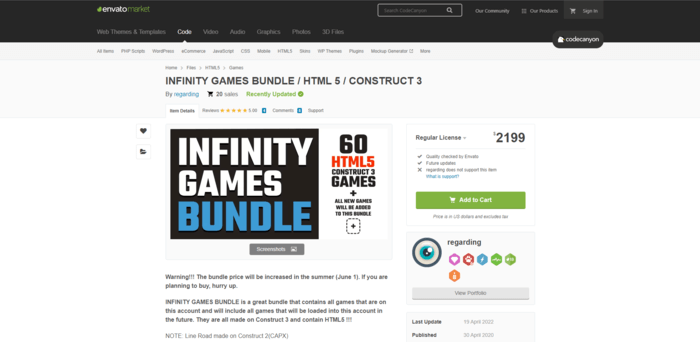 Brands
Most likely you have enough money and your concern is to buy high-quality games with good support from an experienced team. In this case, I suggest you don't go to CodeCanyon at all and buy from Buy.html5games.com, MarketJS or DoonDookStudio depending on your budget. All three of these stores will guarantee you a quality game.
Enthusiasts & Learners
In this case, I highly recommend CodeCanyon because you can buy any template you want with a very low amount, and because you want to change the code yourself, most likely you don't have support concerns and you can make your purchase safely.
Everything Is Up to Your Priorities
Finally, in the following table, you can decide to choose the store you want according to your priorities and conditions:
Conclusion
In this article, we tried to introduce you the best HTML5 games license providers from our point of view so that we might be able to help you make a little decision. All 4 mentioned stores are unique in their kind and are trying to make suitable games for their customers on a daily basis. Surely, your circumstances and priorities determine the right option.
If you aren't sure which store can really help you in your decision-making or you don't know what kind of game will benefit your business, we'll be happy if you contact us so that we can guide you.
Cooperation Request
This article will be updated over time and we will definitely review new competitors as they enter the market. I'll be thankful if you know introduce us a store that has the following conditions:
Active and has released one or more games in the last 3 months.
Their games are completely legal and don't infringe copyright.
The quality of their games is acceptable.
And has at least 10 games in their store.