Games for Educational Purposes – Types, Benefits, and Features!
Jul 09 2023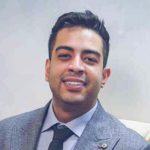 Games for Educational Purposes – Types, Benefits, and Features!
Jul 09 2023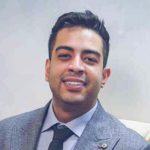 Traditional teaching methods have been used for centuries, and they have been effective in educating many different generations.
However, when compared to gamified education or the use of educational games to teach concepts, the latter has plenty of advantages.
Get Your %100 FREE Consultation on How to Use Educational Games in Businesses!
This article will discuss educational games, their benefits for learning audiences, and what DDS offers businesses and platforms interested in incorporating them.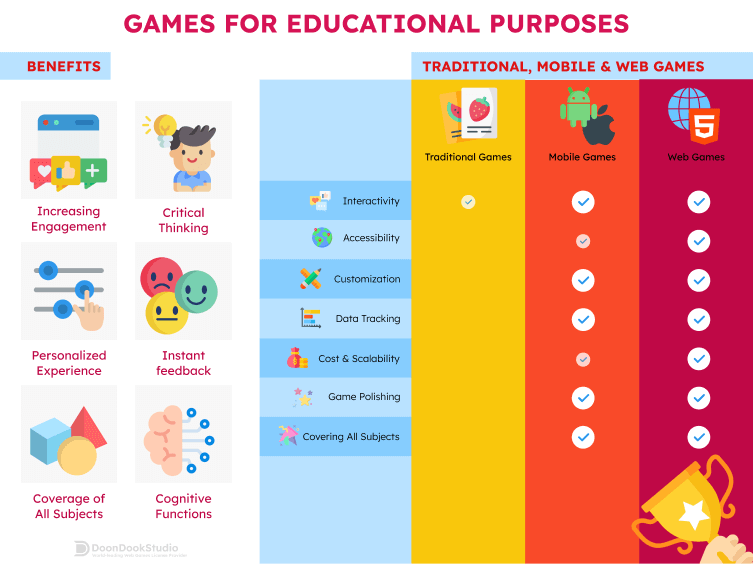 What Benefits Do Educational Games Provide?
Conventional teaching methods can be as effective as other approaches if used consistently in the long run.
However, when compared to gamified teaching methods, the latter has a number of distinct advantages. These benefits are as follows:
Increasing Engagement
Benjamin Franklin once said, "Tell me, and I forget, teach me and I may remember, involve me, and I learn." That's true.
Learners' participation has always been a crucial component of effective learning.
To prove that, the researchers published a study in the Journal of Educational Computing Research to measure the difference in student engagement between traditional teaching methods and teaching via educational games.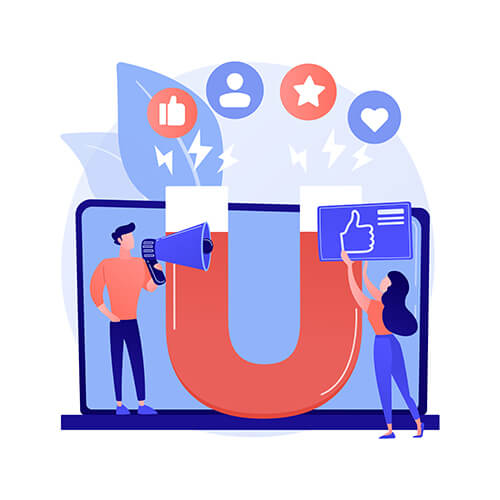 The test group that played educational games demonstrated significantly higher levels of engagement than those who received traditional teaching.
One thing that surely affected the results was the interactive and immersive features of the games, which could captivate the students' attention and enhance learning.
Also, the gamified approach could, of course, encourage a setting that promoted active participation and heightened students' interest in the subject.
Promoting Critical Thinking
In addition to increasing students' engagement, games can foster critical thinking among students while assisting them in problem-solving and decision-making.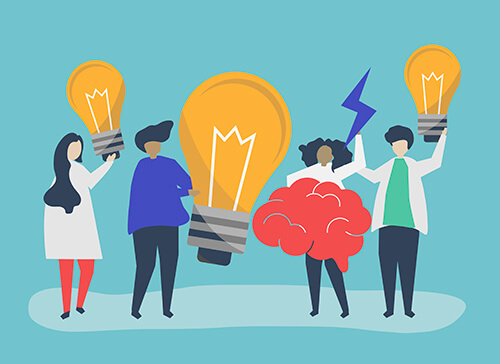 According to a study published in the Educational Psychology Review (2020), gamification and the use of game elements in educational contexts have significant positive effects on cognitive, motivational, and behavioral learning outcomes.
Impress Your Little Users with a Mix of Fun & Educational Value!
We offer a range of HQ games specifically designed for children's education, including alphabets, coloring adventures, puzzles, or even better, customized game development the way you prefer!
Learn More!
Personalized Learning Experience
One exceptional benefit of gamified teaching, particularly educational games, is that they can adjust to learners' abilities while providing them with individualized learning opportunities.
Individualized learning means personalized challenges, feedback, and a progression path that encourages active learning in younger users.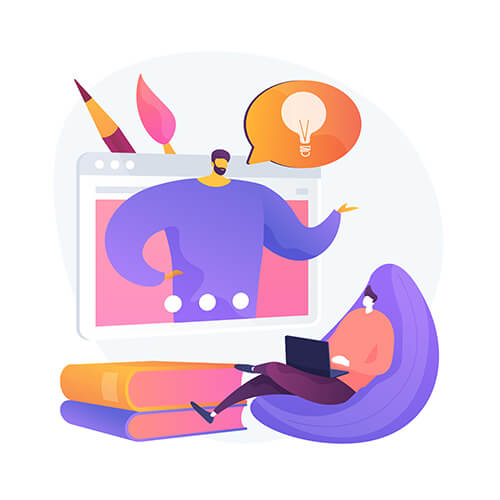 As two examples, consider DreamBox Learning and Khan Academy.
These educational platforms use algorithms to analyze student responses and adjust the difficulty level and content as needed to create a personalized learning environment.
Additionally, the data generated by such platforms offer teachers insightful information.
It allows them to obtain a complete picture of each student's progress and identify areas where they need help or interventions.
Then, they can choose from the available options based on the data gathered.
Instant feedback and progress tracking
With educational games, there's no need to wait for feedback that takes several days. In fact, educational games can provide students with instant feedback on their performance, allowing them to identify and correct errors in real-life situations. In addition, these features help students and teachers monitor learning outcomes.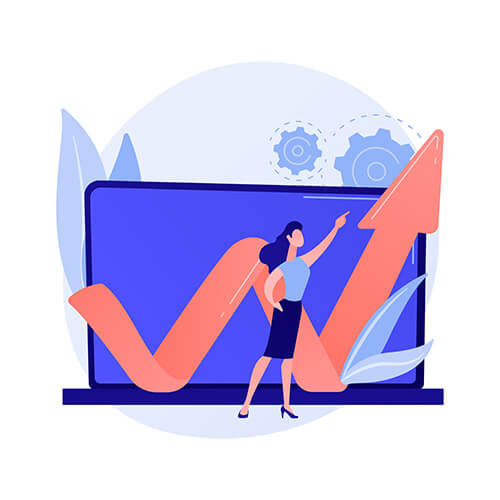 "Kahoot!" is the perfect example of that. This game-based learning platform provides quizzes and assessments with immediate feedback.
One cool thing about "Kahoot!" is that it provides a competitive, gamified environment while allowing teachers and instructors to assess students' comprehension.
Coverage of All Subjects
By providing interactive experiences in a variety of subject areas, educational games have the potential to revolutionize learning.
As of today, games' ability to instruct and educate people on any topic has proven to be limitless.
You can teach anyone by using games with the right content and gameplay.
Besides, games are a great way to teach all kinds of subjects, including S.T.E.M subjects, which include science, technology, engineering, and mathematics.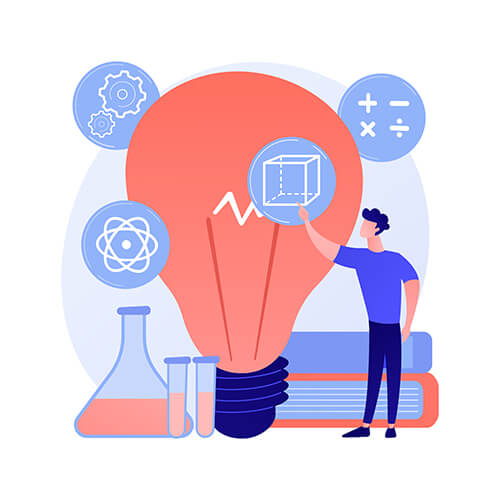 On the other hand, by including valuable educational content & elements within these games, students can practice and explore concepts in an enjoyable fashion.
Nobody can argue against the fact that learning is more engaging, accessible, and effective when game mechanics are incorporated into the lesson plan.
Students can use educational games to immerse themselves in virtual laboratories, solve historical mysteries, and participate in interactive simulations.
Enhanced Cognitive Functions
Another point worth mentioning is that games, in general, have the ability to improve cognitive capabilities, calm the mind, and provide a form of entertainment that has the potential to optimize the learning process.
In particular, skill-based games offer a fun and beneficial approach to exercise the brain and help learners along their educational path.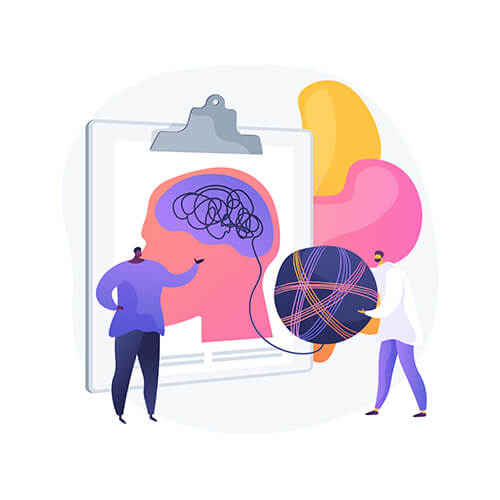 The incorporation of skill-based elements into educational games creates a balanced learning environment that combines intellectual participation with enjoyable gaming.
By keeping the learners' attention, these games work to their full potential to help them learn effectively.
The Differences Between Web, Mobile, and Traditional Games
When compared to physical (traditional) games, both mobile and web games are capable on many mutual grounds. 
However, although they may seem similar at first glance because of their digital nature, there are some considerable differences between these two.
Let's take a look at these 3 types of games and see how they compare in terms of accessibility, interactivity, adaptivity, etc.
Learn How to Benefit from Educational Games for Your Business!
Take advantage of our free-of-charge consultation to discover how to choose the right games and integrate them into your business!
Learn More!
Accessibility
In terms of accessibility, Web and Mobile games have the advantage over traditional games.
They can be played on smartphones and tablets, which are highly portable and accessible.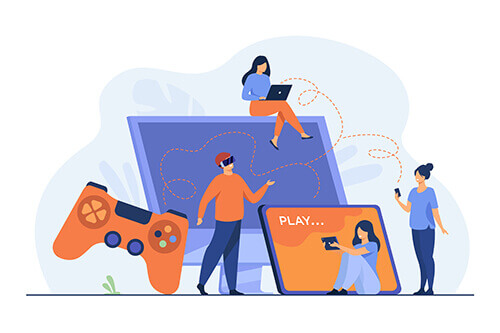 When comparing web and mobile games, the latter is designed specifically for mobile operating systems (such as iOS and Android), ensuring optimal performance and compatibility with the hardware and software features of the devices. 
Web games, on the other hand, can be played across multiple platforms and operating systems, which makes it a superior choice.
On the other side of the spectrum, traditional games require physical space and components, which makes them less accessible in many situations.
Interactivity
All these three types of games offer a certain degree of interactivity.
However, web and mobile games can provide more dynamic, engaging, and immersive experiences. They can utilize multimedia components like videos, animations, and interactive simulations to enhance learning.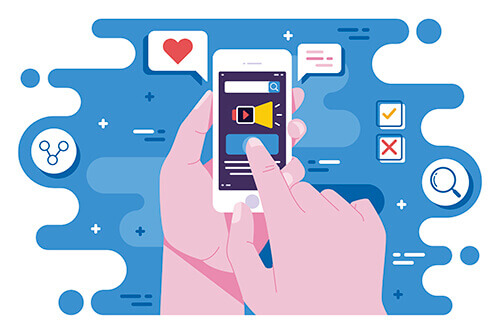 However, when we compare these two, Mobile games often have touch-based controls, while there's no limit for web games.
Conversely, traditional games usually rely on physical manipulation and face-to-face interactions, which, although making the fun double, the ability to integrate multimedia within them is almost nonexistent.
Customization & Adaptivity
Regarding customizability, web and mobile games have the upper hand and are easily adapted to individual learning requirements.
They offer personalized experiences by adjusting difficulty, pacing, and content based on the learner's progress and performance.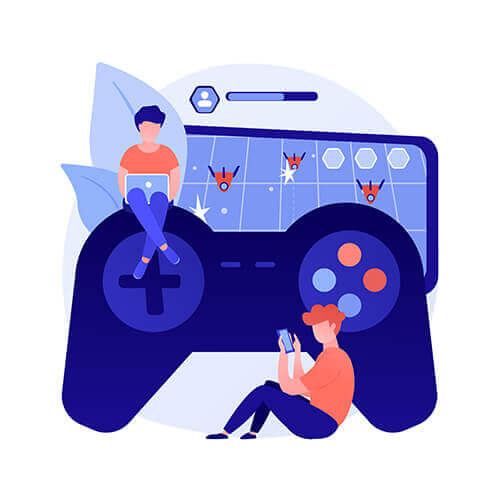 Also, in terms of cross-platform compatibility, web games are superior to mobile games.
In contrast to mobile games, web games can be played on multiple devices with internet browsers, including desktops, laptops, tablets, and smartphones. 
On the other hand, traditional games have predetermined rules and mechanics, making any game changes a challenge.
Data Tracking & Assessment
Mobile and web games both have built-in mechanisms to analyze the learning progress.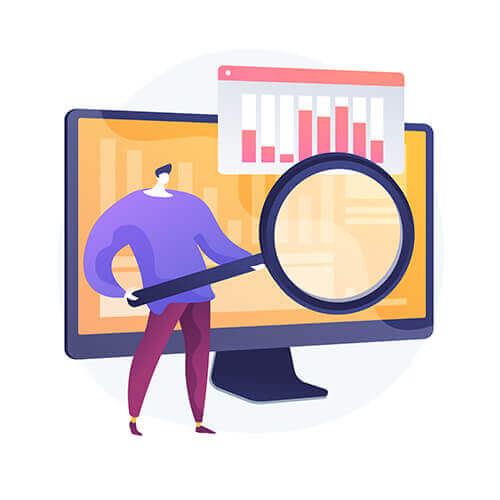 It means they can gather data on completion rates, the time spent & other variables so that teachers can assess the effectiveness of the current learning approach. 
Conversely, traditional games often lack automatic data tracking and necessitate manual observation.
Impress Your Little Users with a Mix of Fun & Educational Value!
We offer a range of HQ games specifically designed for children's education, including alphabets, coloring adventures, puzzles, or even better, customized game development the way you prefer!
Learn More!
Cost & Scalability
Traditional games usually need upfront costs for purchasing or producing game materials.
That makes them less scalable in large educational settings. In contrast, web and mobile games have the potential power for wider distribution and scalability at a lower cost. 
One advantage web games have is that they can be distributed directly through your websites or game portals, typically without any additional costs.
Mobile games, however, often require distribution through app stores, which may involve fees or revenue sharing with the platform (e.g., Apple App Store, Google Play Store).
In any case, digital games can be designed and distributed to a large number of players/ learners (maybe millions) simultaneously and reduce logistical challenges associated with traditional games.
Game Polishing
Game Polish refers to the quality level of visual and audio elements.
For obvious reasons, traditional games have high limitations in this particular area, while it is easier for web and mobile games to undergo a game polishing process.
Covering All Subjects
All these game types can cover a range of subjects for educational purposes. However, due to their digital nature, mobile and web games have a broader scope.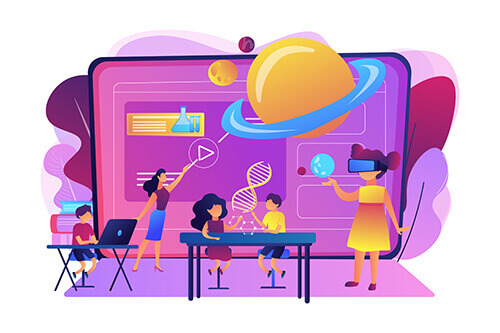 Also, digital games, whether mobile or web, can offer specialized educational subjects like physics simulations, language learning apps, or interactive history lessons. 
Although traditional games are among the capable tools of education, they lack the ability to cover all the subjects effectively.
DDS Educational Games, The Perfect Choice for Young Audiences
As a leading game license provider, we're delighted to say that our studio offers the finest selection of educational games specifically designed for young users.
These games prioritize the safety and entertainment needs of children, providing an unforgettable "learning while gaming" experience.
All of our games are intended to provide young users with a fun and educational experience that is also enjoyable and interactive.
To determine why, let's look into some of the details.
Lovely Gameplay
We at DoonDookStudio understand that children's engagement relies on how engaged and excited they are about the learning process.
As a result, when we create HTML5 games for kids, we do it with the highest care with one goal in mind.  To hold their interest & keep them entertained!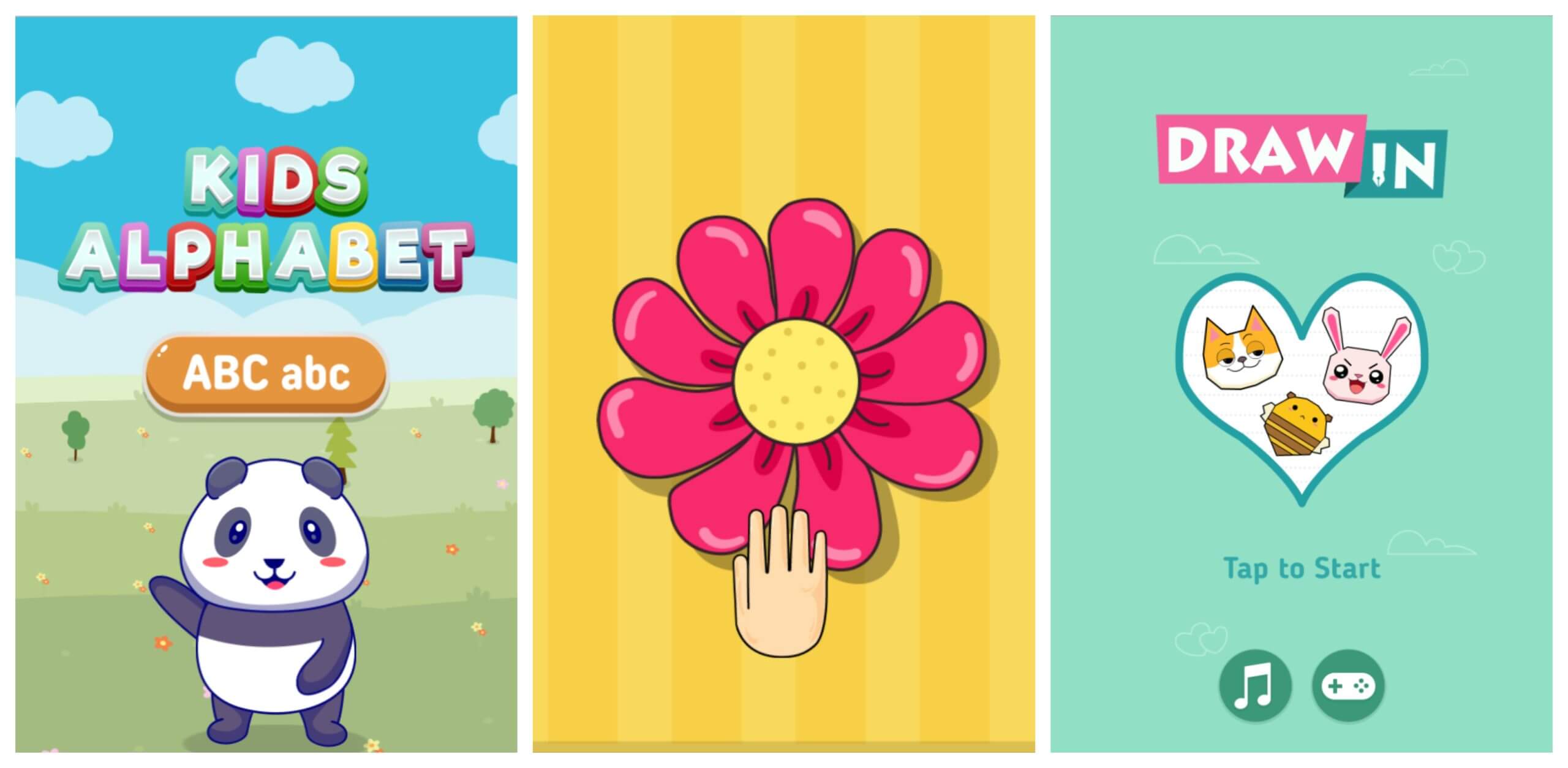 With happy, bright graphics and fun gameplay, our studio's games have the ability to create a stimulating educational setting that encourages the user to involve themselves.
Developing Skills that Matter
Our games do not only cover academic topics. Besides academic aspects, we want our games to teach vital skills like "critical thinking," "problem-solving," and "logical reasoning."
Enjoyable Setting for Learning
We continually work to produce engaging, interactive games that allow players to take part, make choices, and overcome challenges.
Our games, whether a puzzle, quiz or simply a tap-to-blast game, provide a hands-on experience that encourages enjoyable learning.
A UI Kids Love
Developing an intuitive and user-friendly interface is critical, especially for younger users.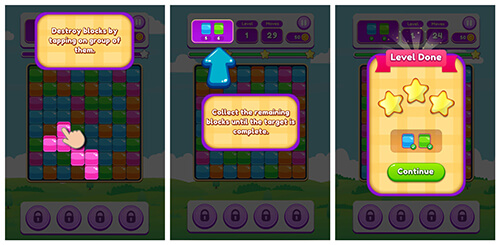 Our games have easy-to-navigate menus, clear instructions, visual tutorials, and easy-to-understand elements, so children can learn and have fun without any confusion.
Family-friendly Contents
At DDS, we prioritize children's safety and do all we can to provide valuable, useful content.
Because of that, our games are free of any form of violence, nudity, or profanity.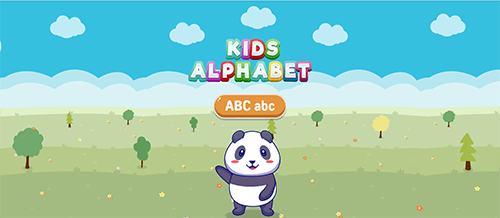 That simply equals making sure parents' peace of mind regarding their child's gaming experience.
Continuous Support
We at DDS commit ourselves to always do better. We aim to maintain that philosophy in every product and services we offer.
As a result, we regularly update and enhance our game store using user feedback and new educational ideas.
Our dedication guarantees that our educational games continue to be engaging for children and adapted to the changing needs of young users.
Conclusion
In a world where traditional teaching methods have long held sway, the emergence of educational games has sparked a learning revolution.
That's because these games have the potential to provide an entertaining experience that traditional methods cannot match.
Moreover, educational games have become a game-changer because of their ability to keep students more interested, encourage critical thinking, allow for personalized learning, give immediate feedback, and cover a wide range of topics.
In essence, educational games fall into three categories: Web games, mobile games and traditional games.
Since mobile games are also a form of digital game, they often share some similarities with web games in comparisons.
However, when comparing web, mobile, and traditional games in terms of accessibility, interactivity, adaptability, data tracking, scalability, and game polishing, web and mobile games excel over traditional games.
In any case, when it comes to producing top-notch educational web games specifically designed for young audiences, DDS Educational Web Games is one of the best options available for businesses. It ensures a delightful balance of education and entertainment.
With a focus on skill development, fun learning settings, user-friendly interfaces, and family-friendly content, DoonDookStudio creates an educational gaming experience that long lasts in learners' minds.
Learn How to Benefit from Educational Games for Your Business!
Take advantage of our free-of-charge consultation to discover how to choose the right games and integrate them into your business!
Learn More!